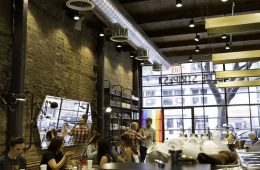 BLUE STRIPES CACAO SHOP
PROJECTED OPENING DATE:
No New Information At This Time Location: TBA
Blue Stripes Cacao Shop, founded by New York native Oded Brenner, will be bringing all things chocolate to The District. After tasting Brenner notoriously decadent creations, DC resident Kanch Algama decided to buy the territory rights and introduce this concept to nearby patrons. Although the location is still being solidified, Blue Stripes Cacao Shop will be serving chocolate in endless forms: chocolate liqueurs, sundaes, fondue, breakfast, and much more.
Photo Credit: www.dc.eater.com