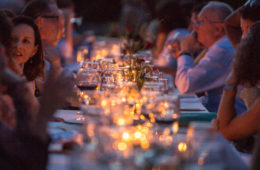 ARCADIA MOBILE MARKET FUNDRAISER
Arcadia is raising money to replace it's 1996 Bluebird School Bus that has been serving honorably as their first-ever Mobile Market since 2012.
They ask that you come through for the people in DC neighborhoods that don't have easy access to good, affordable fresh food by making a $10 (or $10,000) donation to the Mobile Market program
,
please do that here.
You can also be entered to win farm dinner tickets by sharing a link on social media and saying something heartfelt about why you support Arcadia; Be sure to tag us on Facebook, Instagram or Twitter by tagging @arcadiafood and paste in this link:
https://www.spring2action.org/organizations/arcadia-food-inc
or this short cut:
https://bit.ly/2G7U8zI
We will announce the winner on this Friday on Facebook, Twitter, and Instagram.