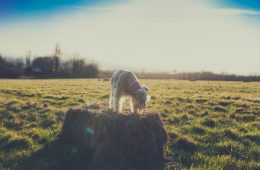 COLLAR GREENS HEALTH & WELLNESS DAY FOR MAN'S BEST FRIEND COMES TO CENTRAL FARM MARKETS IN NORTHERN VIRGINIA
Divabetic and Northern Virginia Central Farm Markets present Collar Greens Health & Wellness Day on Sunday, September 29 from 9:00 AM to 1:00 PM at Marshall High School, 7731 Leesburg Pike, Falls Church, VA.
Celebrate the many health benefits of owning a pet at a fun-filled day of outreach in a pet friendly environment centered around local foods. Collar Greens Health & Wellness Day presents free health education for everyone in the family including our four-legged family members.
Fido and his owners can get answers to their questions at the Ask the Vet station, learn about pet ownership and adoption, and be treated to an amazing service dog demonstration with internationally recognized leader in medical, diabetes alert, and scent detection dog training, Debby Kay.
Stay-healthy-as-a-family activities include free healthy food tours, nutritious cooking demonstrations, Ask A Diabetes Educator station, and sight and hearing screenings. There's even a scavenger hunt and a doghouse decorating area for kids.