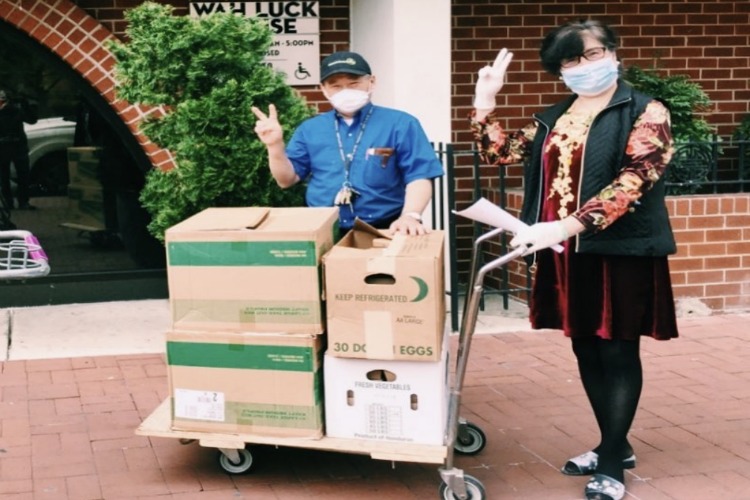 The Deeds List Grows
We know, it's overwhelming. We are with you. But, there really is an abundance of ways to help the local businesses, restaurants and people in need in our community. The information is here. Just click:
4P Foods
The 4P Foods and Local Food Hub have come together with a diverse coalition of partners across DC, VA, and MD to address this crisis. Representing local agriculture, food access, and social services organizations, this Mid-Atlantic Food Resilience and Access Coalition (MAFRAC) aims to coordinate efforts to keep people fed, farmers growing, and small food businesses operating in the face of COVID-19. They are raising $10M to mobilize schools, food hubs, food banks, commercial kitchens, taxi and delivery fleets, and more to form a supply chain that will get nutrient-dense food to those who need it, whether at a community pick-up site or at home. It is imperative that we invest in the local food system now, both to keep farms and food businesses a viable and stable source of food production, and to provide equitable food access to the most vulnerable in our communities. S
upport local and regional farms by getting their food delivered to you via 4P Foods. Learn more about the region's emergency food response resources and ways to give or get involved.

Bayou Bakery: Chefs Feeding Families
While Bayou Bakery, Coffee Bar & Eatery is temporarily suspending it's carry-out service, chef/owner David Guas will continue his mission to provide the community and under-served kids and families with free, grab-and-go meals. Guas founded the Chefs Feeding Families program, a collaboration with Real Food For Kids, which has been operational since the closure of Arlington County Public Schools several weeks ago. Chefs Feeding Families provides free, plant-based, nutritious meals for students, their families, and military families. Families can stop by Bayou Bakery from 11:00 a.m. to 1:00 p.m. Monday through Friday. (1515 N Courthouse Road, Arlington, VA)

DC Brau's Crowlers for Charity
A new campaign of giving by the team at DC Brau, Crowlers for Charity (CFC). Each week, proceeds from the sale of special 32oz cans filled with flagship brews will be donated to a designated non-profit partner, starting with Bread for the City. CFC crowlers will be available Wednesdays through Sundays via the DCBRau's website for contactless curbside pick-up and delivery within the District. The initial line-up of Crowlers for Charity recipients includes:
Bread for the City, SMYAL, The Blade Foundation, Greater DC Diaper Bank and the list goes on. Representatives from each organization will join the DC Brau team on the brewery's Instagram channel every Tuesday evening at 7:00 p.m. for a special CFC IG Live broadcast to talk about the non-profit and chat about the programming and outreach they're currently doing to benefit the communities they serve. CFC crowlers are available for $8 each. Find out more and purchase your crowlers.

Donate with Central Michel Richard
Central Michel Richard believes that there is no more important time than now to help those in need. In addition to the restaurant donating hundreds of meals to the Sibley Memorial Hospital medical workers and the local DC firehouse, Central is asking its guests, friends, and families to consider donating a meal to those groups requiring assistance right now; from Coronavirus patients to medical workers on the front lines, or those currently in the midst of economic hardship as a result of unprecedented circumstances. Central is partnering with several community-based organizations in light of these uncertain times. Please purchase meals and have them donated directly to someone impacted by Coronavirus via one of the restaurant's DC-based partnerships. $100 = 10 Meals -- $200 = 20 Meals -- $300 = 30 Meals. Contact id[email protected] at the restaurant to make your donation today.
Chefs For America/World Central Kitchen
World Central Kitchen is working across America to safely distribute individually packaged fresh meals in communities that need support. Families and children are able to pick up and take meals home, and homebound seniors can receive meals via delivery. As traditional programs and services through schools, city government, and food banks are struggling to meet people's needs, and hospital workers are working harder than ever before, WCK is stepping in to help around the country. You can help by donating to provide meals for families in need. In order to help meet this demand, WCK is activating restaurants, providing jobs for their staff and meals for those in need. As part of its #ChefsForAmerica nationwide emergency food relief program, World Central Kitchen is committing to purchasing 1 million meals from local restaurants, and delivering those meals directly to Americans that need assistance. #ChefsForAmerica is making a key connection between people who need meals and the restaurant workers and drivers who need to earn a living. Find out more if you would like to get your restaurant involved with the effort.

The Chefs' Warehouse
The Chefs' Warehouse, Inc., a specialty food distributor that has been purveying high-quality artisan ingredients to over 35,000 chef-driven restaurants and businesses for over three decades, has announced it has surpassed $1,000,000 in Charitable Food Donations surrounding the COVI?D-19 Crisis. The Chefs' Warehouse has partnered with several national and local organizations such as The LEE Initiative, as well as the #AskChefsAnything auction benefiting immigrant workers and their families. Most recently, the Chefs Warehouse teamed up with Chef Nancy Silverton of Mozza, and Chef Jessica Koslow of SQRL in Los Angeles, to provide the ingredients used in donated meals serving the recently unemployed local hospitality community. This effort, and many more like it, are just one part of The LEE Initiative that the Chefs' Warehouse supports. To date, it has provided over 120,000 meals to out of work cooks, bartenders, waiters, and busboys across 20 regions around the country. Home delivery is now available. To learn more about home delivery, visit shop.chefswarehouse.com.
Columbia Room: Get a Hero Be a Hero
The Columbia Room is opening a sandwich pop-up, Get a Hero Be a Hero, to help those on the front lines of the pandemic.
The pop-up is the brainchild of beverage manager and Columbia Room partner, Paul Taylor. It's inspired by his love of sandwiches and his little sister, Margaret, a Naval Lieutenant aboard the USNS Comfort. The concept is simple: Order a sandwich and they'll donate a sandwich to first responders, hospital workers, or those in need.
Paul's sandwiches include the Mort & Mootz, inspired by classic Italian heroes, and Caul Me Maybe, a vegetable Bánh mì (sandwiches will change often). They will
also offer an option to donate extra sandwiches and "Virtual Office Parties," bulk delivery of multiple sandwiches to at home workers with a personal Zoom by Paul, sharing his techniques and love of sandwiches.
Get a Hero Be a hero is working in partnership with The Power of 10 Initiative.
Order sandwiches online for pickup and delivery alongside Columbia Room cocktails. Orders for delivery must be in before 3:00 p.m. Hours are 4:00 p.m. to 9:00 p.m. Wednesday through Saturday.

DC Central Kitchen
Will operate takeaway meal sites at two DC Public Schools: Walker-Jones Education Campus (Ward 6), Kelly Miller Middle School (Ward 7), Thomas Elementary School (Ward 7). Additional mobile feeding locations serving to-go breakfasts and lunches are in the process of being launched. DCCK is prepared to increase meal deliveries to local shelters and nonprofit agencies. They will also be providing deeply discounted fresh produce deliveries to their partner stores. For a short time, Blue Cross Blue Shield will be matching all donations to DCCK up to $100,000. To donate, please click here.

FoodItForwardDC
Clyde's Restaurant Group and Knead Hospitality & Design have launched Food it Forward, an initiative to support the hard-hit restaurant industry and provide quality food to vulnerable populations in the greater DMV. Through Food It Forward, the public can purchase delivery meals packaged by local restaurants. The meals will then be distributed to those who need it most in the Washington area by Martha's Table. A meal donated through Food It Forward supports not only local restaurants but also provides healthy food to our local community members affected by the COVID-19 Crisis. Visit FooditForwardDC.com for more information.


HipCityVeg
With every HipCityVeg order you place through DoorDash, HipCityVeg will deliver a meal to a healthcare worker in DC. This woman-owned restaurant group has been hard at work feeding frontline workers in Philly, and in response to overwhelming support, will now begin to deliver meals to every hospital in the District that is affected by COVID. If you join friends and neighbors to purchase 20 or more meals, you can choose which hospital or Unit your meals are donated to, or you can choose to have them delivered to other front-line responders, such as EMTs, firefighters, and police officers. Get your kids (or yourself) involved by dropping off their handmade thank you cards at the HCV Dupont Circle location (1300 Connecticut Avenue) and they will include them with each delivery. To order, use the DoorDash app. Don't want to order a meal? You can still contribute: each $10 donation via Venmo @hipcityveg will go straight to the front lines.

Hook Hall Helps
To ensure workers have access to to-go meals and supplies Hook Hall has started a Worker Relief Fund First which will be used first to ensure that people get supplies and meals in their hands. They are now looking for restaurants who will pack to-go meals for the industry in need or donate perishables if you are going to close operations.

Lee Initiative Reboot
In March, in response to the COVID-19 crisis and its effect on the restaurant industry, Chef Edward Lee, in partnership with The LEE Initiative and Maker's Mark, launched The Restaurant Workers Relief Program. The program has been able to provide over 140,000 meals and thousands of pounds of supplies to out of work restaurant employees in nineteen cities across the country. As restaurants around the country look towards reopening, Edward Lee and LEE Initiative director Lindsey Ofcacek are committed to helping reset the supply chains for farmers and restaurant operators who are committed to sustainable food. The LEE Initiative's Restaurant Reboot Relief Program is committing at least $1 million to purchasing food from sustainable farmers in 16 regions and giving that food directly to restaurants in those areas. The restaurants that have hosted relief centers in those areas will be receiving the food and helping to select which other restaurants will be receiving the food as well. The Restaurant Reboot Relief Program launches in June of 2020 and will run for at least a year. The program is dependent on involvement from generous partners including Maker's Mark, as well as donations from the general public. For more information on the relief efforts, please follow The LEE Initiative on social media. Further details on participating restaurants and farms will be available in the coming weeks. Click here for details on guidelines for participating restaurants and farms.

Mid-Atlantic Food Resilience & Access Coalition
The newly created Mid-Atlantic Food Resilience & Access Coalition (MAFRAC) is mobilizing farmers, schools, food hubs, food banks, commercial kitchens, rideshare services, food service workers and others to form a supply chain to help those in need while simultaneously keeping farmers and businesses in the regional supply chain working. In these difficult times an unprecedented number of Americans are unsure where their next meal will come from. Farms and food businesses have had their businesses upended by the pandemic. Food pantries and other food access providers are facing surging demand and uncertain supply chains and MAFRAC believes local is the solution.
Local food systems drive economies, provide nourishment, and employ countless people from farm workers to dishwashers. In March 2020, 25 organizations from across the Mid-Atlantic, led by 4P Foods, created MAFRAC to help keep communities fed, farmers harvesting, and local food businesses operating. As economic uncertainty mounts and the number of un- and underemployed increases, it is imperative to invest in the local food system to keep farms and food businesses a viable and stable source of food production, and to provide equitable food access to the most vulnerable in our communities. A recent example is rescuing 16 tons of apples and turning the potential loss into a $13,000 profit for a family fruit farm in Pennsylvania.
For more information about MAFRAC visit mafrac.com

Neighborhood Provisions
Neighborhood Provisions is providing healthy, well-sourced meals to those in need. The concept is simple: through the generosity of sponsorships small and large, they reach out to groups that require assistance, be it frontline hospital workers, the economically vulnerable or Coronavirus patients. Their chefs prepare the meals, and their team - trained in CDC-approved health and safety practices - deliver these meals to those groups in need. You can help them help the community--their goal is to serve 400 meals per day, 2,800 meals per week, and they have outlined many ways you can lend a hand on their website. When you click this link, you will be directed to pick your city, and can then select the 'Helping Those in Need' tab.

No Kid Hungry
As part of its ongoing COVID19 relief and recovery efforts, No Kid Hungry, a national campaign to end childhood hunger in America, and Nationals Philanthropies, the official charitable arm of the Washington Nationals, have issued matching grants of $25,000 to Fairfax County Public Schools and Prince George's County Public Schools for a total of $50,000 to each school district. These funds will help Fairfax County and Prince George's County Public Schools make sure kids stay nourished. Combined, the school districts will serve approximately 35,000 meals a day through curbside pick-up, pop-up meal sites and bus route delivery. Before the pandemic, 1 in 7 American kids lived with hunger; this year, that number may grow to 1 in 4. While there may not yet be a cure for COVID19, the hunger that so many families across the country are suffering while out of school and work is solvable. No Kid Hungry and Nationals Philanthropies, through its NATS4GOOD Community Response Fund, remain committed to assisting communities throughout the Coronavirus outbreak and its aftermath.

Off Their Plate, Inc.
Off Their Plate is a national grassroots movement to provide nutritious meals to hospital teams and revive restaurant jobs in our communities by partnering local restaurants with hospitals and community health centers. Off Their Plate, which is affiliated with Jose Andrés' World Central Kitchen, has raised more than $2.5 million to date and is working with a growing list of Washington D.C. restaurants, including Emilie's, RIS, Chicken + Whiskey, Cork Wine Bar and The Alibi. Off Their Plate began in Boston in mid-March and has since delivered tens of thousands of "hero meals" to frontline healthcare workers in cities across the country, including Chicago, New York, Pittsburgh, Philadelphia, Seattle, San Francisco, and Los Angeles. The organization is run entirely by volunteers and is powered by private donations and grants. Washington's vibrant food scene is both a source of civic pride and a foundation of the local economy, and the restaurant industry has been hit hard by the COVID-19 pandemic. Off Their Plate was created to support this crucial segment of the workforce during a period of unprecedented disruption by paying them to prepare healthy, delicious meals for our healthcare heroes who are working around the clock and may lack access to nutritious, convenient food options. Restaurants interested in partnering with Off Their Plate can sign up here. Individuals and organizations interested in supporting Off Their Plate with a financial contribution can do so here.

Optimus Ride Autonomous Vehicles & The Yards
The Yards and Optimus Ride, a self-driving technology systems company, launched a fleet of three autonomous vehicles that will be used to deliver food directly--and contact-free--to families in Southeast DC who are struggling with food insecurity and access to food amid COVID-19. Developed by Neighborhood Restaurant Group and the Arcadia Center for Sustainable Food and Agriculture, the One-Week boxes consist of enough nutritious, prepared foods and raw ingredients to support a full week's worth of meals for an individual that sustains a 2,000 calorie per day diet. Each week, The Yards and Optimus Ride will be delivering meals prepared at Bluejacket to families identified by Pathways to Housing DC, an organization aimed at ending homelessness and supporting recovery for people with complex health challenges, as well as families in need at Van Ness Elementary School, a neighbor of The Yards. Each box will contain a mix of products requiring preparation, such as fresh produce, proteins and grains, as well as products that are ready to eat, like homemade chicken soup. The boxes will be distributed to the identified families on a weekly basis, serving a total of 5,000 meals. Optimus Ride has designed, built, and started the operation of a self-driving system that has capabilities for both logistics and passenger mobility. The current system is supervised by trained staff and engineers while the vehicles learn the different routes around The Yards. The operation will begin by providing essential logistics services for transporting prepared foods and groceries - initially for nonprofit meals and eventually for commercial food delivery services for the tenants at The Yards - and transition to people-moving as COVID-19 subsides. Through their system, Optimus Ride is integrating a new logistics vertical critical for restaurants, retailers and other businesses in order to safely serve their community during and after the pandemic.


Pizzeria Paradiso
Pizzeria Paradiso's chef and founder, Ruth Gresser, will donate 10,000 pizzas to children and families in need and frontline workers over the next ten weeks. Starting April 9th at 11:30 a.m., and while supplies last every Thursday for the next ten weeks, Pizzeria Paradiso will distribute 300 individual pizzas in Hyattsville in conjunction with Real Food for Kids: Chefs Feeding Families and Art Works Now in an effort to support families impacted by closed schools. Every individual served will receive a vegetable and whole-grain crust pizza, and an Art Works Now MANDALA Coloring Sheet. The initiative continues with pizza donations to senior citizens in Hyattsville, Children's Hospital, GW Hospital, and Hook Hall Helps. Over these ten weeks, Paradiso will be accepting suggestions for additional donation sites to support those in need during this time. If you would like to donate in support of 10,000 Pizzas, you can do so here. You may also suggest a drop-off location by e-mailing [email protected] Pizzeria Paradiso will continue to support the mission of Real Foods For Kids by supplying vegetable and whole-grain pizzas for Northern Virginia families each weekend through this crisis.
Power of 10
This initiative is dedicated to maintaining restaurant operations while keeping employees and communities safe. The mission is based on re-employing staff, establishing food security and engaging with the community. How does it work? By raising $10,000 per week in donations, the organization is able to provide 10 full-time jobs and 1,000 free meals to any direct, in-need community. This model allows restaurants to reopen without having to implement takeout/delivery services that they were not built to handle.

Between individual contributions and other non-profit grants,

Power of 10 initiative has raised

$200,000 since March 26. Sixty sustainable full-time jobs have been restored for local restaurant workers, and 10,000

hot, free meals have been served to communities in need and frontline workers. The initiative has expanded to six DC restaurants,

including Maydan, Compass Rose, and Derek Brown's new pop-up sandwich shop.

LA expansion kicked off with the help of Olympic medalist Mirai Nagasu's family restaurant, Sushi Kiyosuzu.

With a goal to expand immediately in cities like Philadelphia, New York, New Orleans, Detroit and more, this isn't just a COVID-19 quick fix, this is a model that can be used to revive restaurants and local supply chains to feed communities and frontline workers in times of crisis to come. Find out more about

donating or starting a Power of 10 initiative in your community here.

#SaveDCEats
Save Eats DC is a new digital marketplace created to share culinary and hospitality experiences and offers that generate revenue for restaurants and bars now and can be redeemed once this crisis has passed. The #SaveDCEats team is led by chef Christopher Morgan who was working on a fundraiser campaign when he was introduced to Anthony and David of #SavePhillyEats. Their missions and goals aligned and they decided to combine efforts to bring #SaveDCEats to life. #SAVEDCEATS experiences will be added every day. Current offerings include: An exclusive Little Sesame dinner for 10, A Himitsu throwback dinner for two hosted by Chef Kevin Tien, A farm-to-table dining experience for 20 by Shilling Canning Company plus so many other unique offerings. This is an incredible opportunity to support the local hospitality community and ensure their survival, plan your post-quarantine celebration now. Visit savedceats.com.