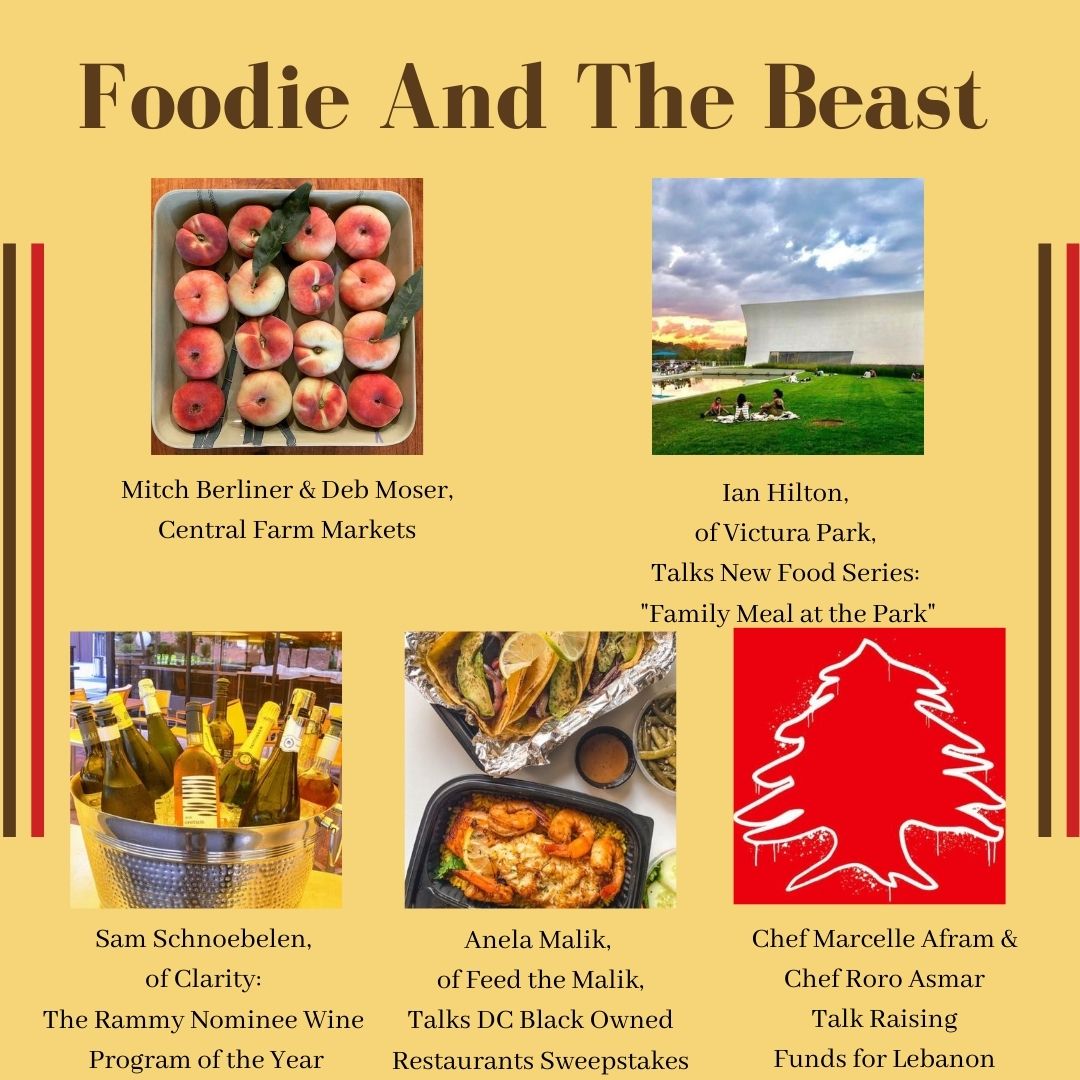 Foodie & The Beast from Home: August 9, 2020
Live From Our Bedroom iiiiiiiiiiiiit's Foodie & The Beast. This week David and Nycci had the opportunity to chat with people who are really making a difference in the DC food and hospitality landscape:
Chef/owner Jon Krinn's Vienna, VA restaurant, Clarity, is a huge hit. So's their wine program. Clarity's General Manager Sam Schnoebelen joined us to talk about their wine line-up and RAMMY nomination for Wine Program of the Year Finalist.

Last week, a massive explosion devastated central Beirut, maiming and killing countless numbers of residents and workers. Marcelle Afram, the chef at Maydan and Compass Rose whose mother was born in Beirut, quickly worked with chef Roro Asmar of Asmar's Mediterranean Foods to organize a fundraising effort for disaster relief. Chef Marcelle and Chef Roro give details of how you can contribute.

Victura Park is a family-friendly outdoor pop-up & wine garden located in the River Pavilion at the Reach, the new addition to the Kennedy Center complex. It's collaboration between the culinary creative team of The Hilton Brothers and Chef Erik Bruner-Yang. Ian Hilton had the 411.

Black business owners in America face unique challenges, including a lack of access to credit and capital, a situation only exacerbated by the COVID-19 disaster. To support Black-owned restaurants throughout the District, prominent blogger and activist Anela Malik pulled together a promotion to support them. In partnership with Half Smoke and Raise Nation, Feed the Malik has mounted the DC Black-Owned Restaurant Sweepstakes. Anela gave us with all the details.

Listen to the full episode here.