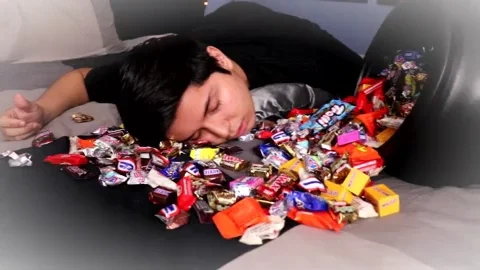 No Tricks, All Treats
Things that make you go … BOO-OOO-OOO! So many ways to get "spirited" this Halloween season which is gonna go all weekend long. It's not like you don't already have a mask. And, don't miss all the Dia de los Muertos celebrations and offerings pre- and post-Halloween on the calendar.

Family-Friendly Halloween Offerings at Assembly Rosslyn
On Saturday, October 29th from 10:00 a.m. until 2:00 p.m., you are invited to stop by Assembly Rosslyn for family-friendly Halloween offerings. Enjoy face painting, photos with classic Halloween characters, trick or treating, and a live performance while enjoying Assembly's brunch menu. 1700 North Moore Street, Arlington, VA; 571.222.5425. For more information, visit their website here.

Stranger Things at Astro Doughnuts
This Halloween season, Astro Doughnuts & Fried Chicken is offering a special half-dozen boxes of Stranger Things-themed doughnuts. Inspired by the supernatural events of the popular TV show's four seasons, Astro Pastry Chef Chris Kujala has created four unique flavors. Flavors include the "Upside-Down" Doughnut (chocolate cake doughnut with a grey cinnamon-honey glaze, Oreo cookie crumbles, and black sugar, served upside-down), the "Breakfast for Eleven" Doughnut (yeasted circle doughnut topped with a maple glaze, chopped bacon, and a mini Eggo waffle), and more. 1308 G Street NW; 202.809.5565; astrodoughnuts.com.

Howl-a-Weiner at Atlas Ivy City
Celebrate Halloween early with your four-legged best friends. Atlas Ivy City will hold a doggy costume contest on Friday, October 28th, starting at 6:00 p.m. and all are welcome to join. The winners will receive Atlas Brew Works gift cards, and Petit Afrik will be onsite serving delicious West African cuisine. 202.525.2001; 1201 Half Street SE. Click here for more information.

Halloween Movie Night at Cheesetique
Join Cheesetique on Monday, October 31st for a double feature on the big screen in the private dining room. The Preshow (The Legend of Sleepy Hollow 1949, the animated original) at 6:30 p.m. and The Feature (Halloween 1978, original theater version) at 7:00 p.m. Cheddar popcorn and a glass of Spooky Sangria are included with your ticket. Cheesetique's full drink and dinner menu is also available. Tickets are $10 per person—multiple Cheesetique locations. To purchase tickets, click here.

Free Halloween Festival at City Ridge
Close out your Hallo-weekend this year at City Ridge, the bustling new neighborhood in Northwest DC. The neighborhood invites all friends and family to its FREE Fall Festival from 12:00 to 4:00 p.m. on Sunday, October 30th at the center of City Ridge. Throughout the day, enjoy a variety of seasonal activities from painting pumpkins to jumping around the Halloween bounce house. Local DC food truck favorite, Reba's, will be on-site serving up funnel cakes and other sweet treats for you to enjoy among Halloween hits played by a local DJ. Registration is free. 14 Ridge Square NW. Register for free here.

Wear a Halloween Costume to CitySwing for Free Golf
From Thursday, October 27th until Monday, October 31st, anyone wearing a Halloween Costume at CitySwing will receive a free thirty minutes on CitySwing's top-of-the-line golf simulators. Kids (dressed up or not) will also have the chance to enjoy some of the Halloween-themed games geared toward kids on the simulators. 901 New York Avenue NW; 202.902.0983. For more information, visit their website here

Silver Spring Zombie Walk from Denizens Brewing Co.
On October 29th, starting at 6:00 p.m., gather for the walk at the Silver Spring Denizens Beer Garden with music, face painting, and a costume contest. The pre-walk gathering is free and family friendly. The actual zombie walk begins at 9:00 p.m. and ends at AFI, where you can enjoy spooky Halloween flicks. 1115 East-West Highway, Silver Spring, MD. 301.557.9818. For more information, visit their website here.

Dirty Habit's Gotham on 8th Street Halloween Bash
This Halloween, experience the frightful offerings of "Gotham on 8th Street: Halloween Costume Party" at Dirty Habit on Saturday, October 29th at 9:00 p.m. You are invited to come dressed in their costumes and enjoy the Gotham-themed festivity. Festive specialty cocktails, live entertainment acts such as an aerialist and fire dancer, and a live DJ playing top 40 hits, both inside and outside the venue. Tickets are free but registration is required. 555 8th Street NW; 202.449.7095. To register, click here.

Spooktacular Sips with District Winery
District Winery is celebrating Halloween weekend with Spooktacular Sips, a special wine and candy pairing class. For $50 per person, you will taste six different wines from the winery paired alongside the candy that best compliments its flavor profile. The pairing will last an hour and a half and will be offered multiple times per day over the weekend of October 28th through 31st. The event is limited to adults 21 years and older. 202.484.9210. 385 Water Street SE. Tickets can be purchased here.

Halloween Howl Dance at Glen Echo Park
You are invited to gather at Glen Echo Park for a Halloween dance party on Saturday, October 29th from 9:00 p.m. until Midnight. The Halloween Howl Dance will feature live performances of the greatest Halloween hits from the last 50 years. Costumes are encouraged. Some performers to get excited for are The Sidleys, The Crimestoppers, Cairo Fred, The Rock-A-Sonics, and many more. Praline Cafe will be open and serving snacks and drinks. Parking for the event is free. Tickets range from $20 to $25 per person. 7300 MacArthur Boulevard, Glen Echo, MD. 301.320.1400. To purchase tickets, click here.

Boos, Blues, and Brews at Harvey's
Join Harvey's for a bewitching costume contest with three categories: Best Overall, Best Couple, and Best Homemade costume of the evening with ten percent of the sales for the entire day at Harvey's donated to Tinner Hill Foundation. Those working up an appetite to compete or watch the festivities for a worthy cause can partake in special snacks like the blackened alligator tacos, andouille and shrimp kebab, and candied apple slices, in addition to Harvey's regular dinner menu. To quench your thirst, Audacious Aleworks will be serving a selection of specials chosen for this festive week. Metro Cellars is offering Send Nudes Rosé and Pinot Noir, Colony Cocktails, and white wine. To enliven the event, everyone in attendance will enjoy music by the Bobby Thompson Trio. For the trick or treat experience, complimentary candy will be distributed to children attendees. Harvey's will be decorated to the hilt with ghoulish décor and music inside the restaurant will be Halloween-themed. The event takes place Thursday, October 27th from 5:00 to 9:00 p.m. 540.268.6100. 513 W Broad Street, Falls Church, VA. Click here for more info.

Hi-Lawn Hosts 90's Throwback Halloween Party
Hi-Lawn is celebrating Halloween with fun for everyone at their 90's themed Halloween Party. The party will take place on Saturday, October 29th from 7:00 p.m. to 11:00 p.m. Enjoy live music from local band Turtle Recall, a DJ pre-party, festive food and drink specials, and a costume contest with prizes. 1309 5th Street NE. To purchase tickets, please click here.

Hirshhorn Howl-O-Ween
Dress up with your pup. The Hirshhorn is hosting its annual Howl-o-ween, Saturday, October 29th, from 10:00 to 11:30 a.m. Join with your well-behaved, costumed dog for a morning of dress-up and art in the Hirshhorn's outdoor Sculpture Garden. Advance registration is required. You are invited to strut your stuff with your pooches in the parade and enter the creative contest. The "ulti-mutt" Halloween event for art lovers is also the one time each year when leashed dogs are welcome in the Sculpture Garden. Hirshhorn Howl-O-Ween supports the Hirshhorn's free-for-all art educational programs. District Dogs will oversee activities for furry friends including an art-making challenge for just for dogs, peanut butter "paw-traits." Kids are encouraged to join in the fun with "Suspending Scary Sculptures," an art-making activity inspired by Eva Hesse's 1966 artwork, Vertiginous Detouron view in "Put It This Way." Bowie Shoots will be on hand to snap doggie portraits in a seasonal step-and-sit-and-stay-and-repeat. Les the DJ will keep the party popping. Hirshhorn Insiders are also invited to a pre-event social at 9:30 a.m. to meet fellow art-lovers. 202.633.1000. Independence Avenue SW & 7th Street SW. Click here for more info.

Hotel Zena's Halloween Disco Party
Hotel Zena, a bold new cultural hub that celebrates the accomplishments of women with their interactive venue, invites you to get your groove on 70's style. Join Hotel Zena for a Halloween Disco party on Saturday, October 29th. Suit up in sequins and bell bottoms and dance to DJ spinning 70's beats. Sip on Harvey Wallbangers, Merry Widow(er)s, Brandy Alexanders, and Singapore Slings. Admission includes a drink. 202.737.1200. 1155 14th Street NW. Purchase tickets here.

Ghost (Peppers) at Ice Cream Jubilee
Ice Cream Jubilee has added a flight of five ice cream flavors to ring in the fall season. New flavors include apple cider sorbet, maple rye pecan, and pumpkin honeycomb. They've also created a fun #onescoopchallenge contest where they dare you to try a scoop of pineapple pumpkin ice cream made with spicy Ghost Peppers and Carolina Reaper peppers. You can enter the contest by posting an Instagram video (tag @icecreamjubilee and #onescoopchallenge) of yourself eating a 4oz portion of the flavor. The winning entry will be judged on the biggest / best reaction and video quality. 1407 T Street NW; 202.299.9042; icecreamjubilee.com

Halloween Party for the Kids of Ivy City
Ivy City Smokehouse is hosting a Halloween event for kids. On Saturday, October 29th at 3:30 p.m., you are invited to gather at Crummell School Playground for Pumpkin Decorating and a Goody Bag Giveaway. 1900 Gallaudet Street NE.

Hocus Pocus Brunch at King & Rye
King & Rye will be celebrating Halloween with a one-day-only Hocus Pocus Brunch on Saturday, October 29th from 10:00 a.m. until 2:00 p.m. Get excited to celebrate like the Sanderson sisters with themed cocktails and spooky specials. Guests who dress up in costumes will receive 20 percent off their bill and a surprise sweet treat. Prizes will also be awarded for the best costume, with first-place winners receiving a $100 gift card to King & Rye. Second and Third place prizes will also be awarded. 480 King Street, Alexandria, VA. 703.842.2761. To book a reservation, click here.

Boo-zy Beach Bash at Last Call Bar
With every spook and trick, there's a stupendous treat - so fear not, as the cocktail queen, Gina Chersevani, and Rachel Sergi, lead mixologist of Last Call Bar conjure up a Halloween, Zombie Beach Party on Saturday, October 29th. Herald in the haunted holiday with creepy jello shots and spooky & scary specials on drinks from 7:00 p.m. to 3:00 a.m. Get down withe undead, as this party serves up a terrifying twist on classic beach decor with blow-up zombies, sharks, and surfboards, all suspended from the ceiling. Dress to theme or unleash your inner ghoul with a festive costume of your own and compete for a chance to be named "Best Dressed." The costume competition concludes at midnight, but you'll be under a serious spell long after as the spirited libations and bloodcurdling blends continue to unpour into the hours of the morning. 202.543.2051. 1301-A 4th Street NW. Click here for more info.

Halloween Cupcakes at Le Fantome Food Hall
The proud Queer, Black baker, Mr. Bake Sweets, is offering his signature cupcakes in a festive Halloween theme during Halloween weekend with popular flavors like sweet potato cake and red velvet. Customers will be able to pick up the festive treats at Le Fantome Food Hall. 240.667.2396. 4501 Woodberry Street, Riverdale Park, MD. Click here for more info.

Nightmare on M Street Bar Crawl
Witches and warlocks have named this legendary Halloween Bar Crawl the hottest DC bar crawl and the ultimate drink-fest for the past two decades. The 24th annual Nightmare on M Street brings you Dupont's newest bars and rooftops, the best DJs, amazing drink specials, the largest costume contest, free raffles, surprise giveaways and signature party favors. You've heard the stories - now experience the heart-pounding, drink-thrilling bar hop yourself on Saturday, October 29th from 2:00 to 9:00 p.m. 202.298.9222; M Street NW. All the details here.

Mosaic Halloween Spectacular
Join Mosaic Sunday, October 30th for a spooktacular Halloween. From open to close, stop by your favorite shops for trick-or-treating. Shop around at the FRESHFARM Farmers Market from 9:00 a.m. to 2:00 p.m., and get your face painted at the Vienna Singing Princesses glamour tent from 2:00 to 7:00 p.m. in Strawberry Park. Layout your blankets, spread out your candy, and enjoy The Addams Family (2019 animated version) on the big screen in Strawberry Park, starting at 6:00 p.m. 703.922.7832. Mosaic District Avenue, Fairfax, VA. For more information, click here.

Harbor Halloween at National Harbor
Harbor Halloween returns to National Harbor on Sunday, October 30th with a fun lineup of spooktacular fun for the whole family. The day starts with trick-or-treating at select restaurants and retailers from 12:30 to 2:30 p.m. Children are encouraged to wear their Halloween costumes. Hocus Pocus will be shown at 1:00 p.m. on the Plaza big screen. At 2:30 p.m., multiple National Harbor restaurant chefs and artists will compete in a pumpkin carving contest. Spectators are encouraged to watch and vote for their favorites. Afterwards, the carved pumpkins will be auctioned off to benefit Hero Dogs. While the pumpkins are being carved, National Harbor will host a Pet Pawrade. Bring your pet in costume to the waterfront plaza where everyone will line up for a short parade. Prizes will be given for best costume, most creative costume and more. From 12:00 to 2:00 p.m., children in costume get a free ride on The Capital Wheel and Carousel with the purchase of adult admission (limit two free children per one adult admission- valid for children ages 10 and under). 877.628.5427; 165 Waterfront St, Oxon Hill, MD. Click here for a full list of events.

Nick's Riverside Grill Halloween Party
Georgetown's neighborhood sports bar, Nick's Riverside Grill, is holding their annual Halloween party on Saturday, October 29th starting at 9:00 p.m. until close. A $10 cover grants you access to a finger food buffet, drink specials, and a costume contest with prizes for the top three contestants. There are also special offers available for parties of 10+. 202.342.3535; 3050 K Street NW. For more info, click here.

Haunted Hayrides at The Omni Homestead Resort
On Friday, October 28th, and Saturday, October 29th The Omni Homestead Resort is offering haunted hayrides during the holiday weekend. The event will take place in a horse-drawn carriage that will travel throughout the property. Throughout the journey through the "haunted" trails, you may encounter Halloween monsters, ghosts, and ghouls. 7696 Sam Snead Highway, Hot Springs, VA. 540.839.1766. For more information, click here.

Opaline's Halloween Celebration
Opaline Bar & Brasserie's outdoor patio is celebrating Halloween on Friday, October 28th from 4:30 to 9:30 p.m. Enjoy spooktacular cocktails & mocktails, live entertainment by French DJ David Dupree, prizes for French or most creative costumes and Tarot Card Readings. In addition, Executive Chef Derek Brooks will offer specials from his fall menu. 202.730.8701; 806 15th Street NW. For more information, please click here.

Pink Taco's Halloween Bash
On Saturday, October 29th, Pink Taco will be throwing a Dia De Los Muertos themed fiesta with tacos from heaven for a helluva good time at all Pink Taco locations. The party will be going from 6:00 to 10:00 p.m., so you can fiesta now and siesta later. Servers will be dressed to impress and you should too - enter Pink Taco's costume contest for the chance to win a $500 Pink Taco gift card - because that's how the iconic eatery rock n' rolls. A live DJ and wandering spooky actors will keep the Halloween vibes going all night long, plus there's free candy and damn good tacos. Don't be spooked by stiff drinks and killer margaritas. In case you have one too many, there will be a photo booth to help you remember a night you won't want to forget. 202.970.7724. 100 M Street SE. Click here for more info.

Rebel Taco's Spooky Cocktails
New Director of Operations, Manuel Olivera is tackling the new cocktail menu at Rebel Taco MVT with new spooky specials influenced by Día de los Muertos. Highlights from the new menu include the "Calavera," which includes mezcal, pineapple, lime, jamaica (hibiscus) syrup, a big ice cube, & smoked epazote herb topped with a skull smoker. 703.760.3155. 508 K Street NW. For more information, click here.

No Witch Left Behind Event at Sticky Fingers
On Saturday, October 29th from 4:00 p.m. until close, you are invited to join Sticky Fingers for their No Witch Left Behind Event. Enjoy cocktail, cookie, and pumpkin decorating, plus tarot card readings. Reservations are required. 406 H Street NE. 202.367.9600. To make a reservation, email [email protected].

Halloweekend at The Perch in Tysons
Join The Perch on Saturday, October 29th for the ultimate Halloween costume party, featuring live music, spooky golf, pumpkin and face painting, adoptable dogs, seasonal beverages, pumpkin pie-eating contests, and more. 1805 Capital One Drive, Tysons, VA; 202.970.7724. For more information, visit their website here.

Truman's Charities & Chip Halloween Bash at Tommy Joe's
On Saturday, October 29th from 6:00 p.m. until 10:00 p.m., join Tommy Joe's in Bethesda for Truman Charities annual Halloween Bash. Enjoy great food, drinks, auction items, and a costume contest. All proceeds benefit Feed the Fridge, which works to solve food insecurity while also supporting the local economy. 7940 Norfolk Avenue, Bethesda, MD. 410.814.0493. To purchase tickets, click here.

Halloween Tour: Death Comes to Tudor Place
In this special Halloween tour at Tudor Place, explore historical death and mourning traditions. Take a close look at accessories, etiquette, and science associated with mourning in the Victorian and Edwardian eras of the 19th and 20th centuries. Learn about what death looked like at Tudor Place for the people who lived and worked there. This tour is recommended for guests 13 years of age and older. The tour costs $5 for members, seniors, and students. For non-members, the tour costs $10. 1644 31st Street NW; 202.965.0400. To register for a tour, click here.

Trick or Treat at Tudor Place
Head over to Tudor place, wear your Halloween costume, and search for treats (not tricks) in every corner of the garden. Enjoy crafts, activities, and games amid lovely autumn plant life. This outdoor event will take place on Saturday, October 29th from 10:00 a.m. to 1:00 p.m. (rain or shine). 202.965.0400; 1644 31st Street NW. Click here to register.

Halloween Celebration at Urbano in Mosaic District
Urbano in the Mosaic district is inviting you to join them from Saturday, October 29th until Monday, October 31st to celebrate the spirit of Halloween. Throughout the weekend, enjoy festive decor, a number of specialty cocktails, a Tex-Mex brunch where children can also get their faces painted, and more. On Monday, dress up in your best costumes and compete for a chance to win a number of prizes. 22985 District Avenue, Fairfax, VA. 571.282.3358. For more information, visit their website here.

Wilson Hardware: Halloweekend "Haunted Hardware" and "Thriller on Wilson"
Wilson Hardware will be hosting a two-night Halloweekend event on Friday, October 28th and Saturday, October 29th. The weekend will kick off with a Haunted Hardware costume party where you can also enjoy the DJ while competing to win Best Costume. The following night, join the Thriller on Wilson party for more music and take another shot at winning a second costume contest. 2915 Wilson Boulevard, Arlington VA. For more information, click here.