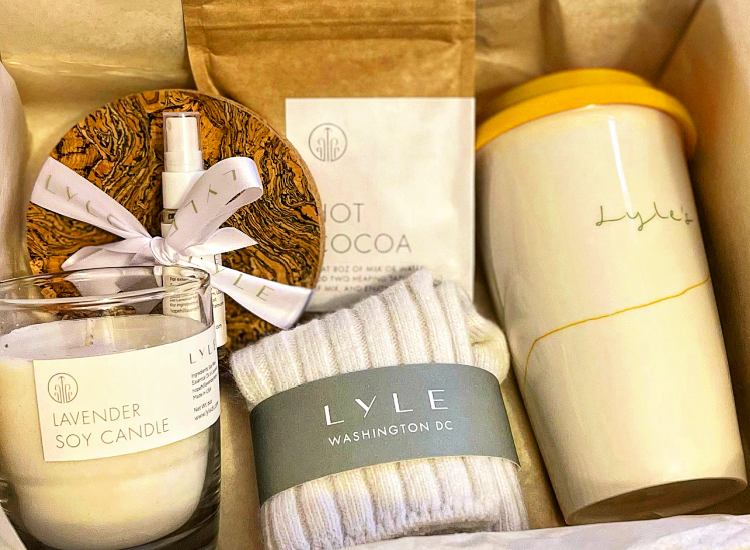 Last Minute Gifts: The List's List Of Gifts
Photo: Nycci Nellis @ The Lyle
There is no reason not to give and give well during this holiday season. Whether it's for family, friends, work associates or someone you just want to feel acknowledged, it is so easy to give a gift that is both thoughtful and unique (and without breaking your budget). Sometimes giving feels better than getting, we're just saying:

Apéro Caviar + Champagne Gift Bags
Apéro has packaged together Caviar and Champagne inside a playfully branded cooler bag for an easy grab and go of an elegant snack. The bundle comes with the full accoutrement of egg white, egg yolk, red onion, capers, chives, crème fraîche and potato chips. The selections for caviar and brands of Champagne vary by size and producer. Custom packages are available if the Champagne you are looking for is not listed and bulk orders for holiday gifts in the office or at home with friends and family are encouraged. Pick up Tuesdays through Sundays after 4:00 p.m. at 2622 P Street NW; order.spoton.com

NEW: Devil Made Me Do It Cake
From the team behind Daikaya, Bantam King's pastry chef, Mary Mendoza, has ensured that dessert is a must-order, with her playfully named, delicious cakes. The Devil Made Me Do It is a multi-layer, decadent devil's food chocolate, ideal for sharing (or not) at a holiday get-together. Order with a bottle of La Cuvee Brut Champagne and you've got the perfect gift for any dessert-loving friend. $160 ($100 cake only); toasttab.com/bantam-king

Gifts for the 'Spirit'ed Bookworm
Earlier this summer, F. Paul Pacult released his new book, entitled The New Kindred Spirits: More Than 2,000 All-New Whiskey, Brandy, Agave Spirits, Gin, Vodka, Rum, Amari, Bitters, and Liqueur Reviews from F. Paul Pacult's Spirit Journal, a completely new third edition of his groundbreaking Kindred Spirits series, last published in 2008. With never-before-seen reviews and industry insights, including coverage of the craft distiller explosion, this is a must-have guide to the world of spirits for both industry professionals and passionate spirit connoisseurs. Paperback, 640 pages, $50; In addition, Pacult's seventh book, Buffalo, Barrels, & Bourbon: The Story of How Buffalo Trace Distillery Became the World's Most Awarded Distillery, tells the compelling story of Buffalo Trace Distillery, located in Frankfort, Kentucky via in depth storytelling, pictures, timelines, sidebars and more. It spans the time of Daniel Boone's late eighteenth century explorations in uncharted Kentucky through the trials of the U.S. Civil War, two world wars, Prohibition, and the Great Depression to the present era. Hardback, 250 pages, $25; Available at Amazon, Barnes & Noble, Books-A-Million, Indiebound, Bookshop.

Journey Through The Caribbean
Experience Cane from the comfort of your home with their monthly membership programs: Cane's Journey Through The Caribbean and Drinking with Cane: Caribbean Rum Club. Members will experience the elevation of Caribbean cuisine through a four course meal and signature cocktails curated by the team. Plus, you'll receive educational content focusing on the stories and origins of each month's box. table22.com/cane

Local Spirits For The Manhattan Enthusiast
Give the gift of Virginia in a glass with Catoctin Creek Distilling Company's Roundstone Rye "Distiller's Edition" 92 Proof Whisky. Made from 100% rye grain with a fruity, fresh, and rounded spice-profile, the 92-proof version of Catoctin Creek's ever-popular Roundstone Rye is one of the smoothest sipping whiskies around. Catoctin Creek President and Head Distiller, Becky Harris hand-selects some of the more interesting barrels from the back of the barn that show a spicier rye profile at a higher proof – think cloves, cinnamon, and black pepper – perfect for the holiday season! Only one in every ten barrels gets chosen, creating a whisky that is specially curated for flavor, while still being remarkably smooth. Available in store and online through Catoctin Creek's national distribution footprint, you can purchase Catoctin Creek's Roundstone Rye "Distiller's Edition" 92 Proof ($52.79 per bottle / 46% ABV, 750 mL) at BuyVirginiaRye.com.
NEW: Cheesetique's Custom Gift Baskets
Give the gift of deliciousness. Order your gift basket and then choose any items from the Cheesetiue store to fill it! Your gift will be wrapped in clear cellophane and tied with raffia. Ready to present to any cheese lover! For more information, visit cheesetique.square.site

Holiday Wine Boxes from City Winery
There's no better way to say "Happy Holidays" than with City Winery wine! Each wine box is complete with four City Winery wines - choose from red, white, or a mix of both. The gift package includes free shipping, a beautiful holiday card, and wine opener. $120; citywinery.com/washingtondc

Colada Shop's Tasty Local Gifts
Colada Shop is featuring numerous new retail items that make great gifts for friends and relatives. Items include mini guava oatmeal cookies and cafe con leche mug bundle, winter blend coffee beans roasted by local Takoma Park roasters Lost Sock, handmade earrings by local maker Blue Moon Aquarius, cocktail-inspired soap bars made locally by Tiffany Riffer, and bottled cocktails. coladashop.com

NEW: CUT Bottled Cocktails
Skip the standard bottle of wine this year and go for cute barrel-aged cocktails. Available at CUT (the small batch bottles first launched during the height of the pandemic as a to-go option), you'll find an Old Fashioned and several versions of the Negroni on the menu. Buy one for a stocking stuffer or grab one of each and wrap up a flight for your favorite liquor-loving friend. $18 each; exploretock.com/cutbywolfgangpuck

Band of Women (Chefs)
DC Women & Food is a collection of women-owned food businesses in the DC Metro Area that initially joined forces and worked together to help boost each other's small businesses during the height of COVID-19. And now, Holiday Giving 2021 has them banding together again and offering more unique collaborations with specially curated food gifts/gift baskets/specials. Visit exploretock.com/letstalkdc to order.
Doordash Launches Nationwide Shipping
DoorDash is expanding what it means to get the best of any neighborhood with the introduction of Nationwide Shipping on DoorDash and Caviar. Order delicious meals and items from iconic restaurants and retailers across the country and have them delivered directly to your doorstep. With Nationwide Shipping, gift everything from sweet treats and savory meals, to flowers and fresh produce, with free delivery from anywhere in the nation in just a few days. With a wide variety of restaurants and shops across the country to choose from ranging from famed and well-known merchants like Carlo's Bakery (Hoboken, NJ), Katz's Delicatessen (New York, NY), Momofuku, Get Maine Lobster (Portland, ME), and Carbone Fine Food, to local heroes like Big Shakes Hot Chicken (Franklin, TN), Chocolate and the Chip (Los Angeles, CA) and more, there's a perfect range of options for whatever you're craving.
The Gift of Magic from Enchanted Botanicals
Did you know that all herbs have magical superpowers? Spiritual herbalist, Reiki master-teacher and author Deb Schaffer creates products carefully formulated to be true to their intention. Each product blends the beauty of organic herbs & flowers with their spiritual purpose. From candles to witch balls to soaps, crystals, and incense, Enchanted Botanicals has the perfect gift for the herb-lover and spiritualist on your list. For more information visit enchanted-botanicals.com or the holiday catalogue here.

KC Cattle for the Conscientious Meat Lover
A Veteran owned and operated family run business, Patrick Montgomery started KC Cattle to continue serving those he served with during his time as an Army Ranger with 1st Ranger Battalion. In addition to creating delicious meat products, his goal is to mentor and employ veterans. They ethically raise cattle in a stress-free environment on the family's ranch, and their meat is antibiotic and hormone-free. All protein is sourced from farms with responsible and ethical practices. Know a busy someone in your life that would love to have delicious dinners mapped out for them? Gift them one of their delicious bundles, like the Holiday Rush Wagyu Dinner Bundle. The Chestnuts a'Roasting Holiday Wagyu Bundle includes several roasts and melt in your mouth favorites to keep your house smelling like savory Wagyu & drool worth pork all winter long. Buddy's Holiday Wagyu Beef Bundle is complete with all the family friendly Wagyu beef favorites, plus many more bundle options. For more information, visit
kccattlecompany.com
Bibliophiles Rejoice: Kramer's Subscriptions
Sign your wine-lover up for a monthly pairing of Kramers' favorite books with an accompanying bottle of wine and snack. Select your favorite book genre (like Fiction, Sci Fi, Mystery, Science, and more) and your wine preference (Red, White, Rose, Adventurous) for the perfect pairing each month. More of a coffee drinker? Sign them up for a monthly pairing of Kramers' favorite books (ones they actually read!) with an accompanying bag of whole bean coffee. Select your favorite book genre (like Fiction, Sci Fi, Mystery, Science, and more), and you'll receive 1 bag of whole bean coffee (ranging from 8oz-12oz) from their Coffee Director's favorite roasters. This can be picked up locally or shipped nationally for $9. table22.com/kramers
Handmade Hair Accessories That Sparkle
Kristine Makes! began as an excuse for Kristine to work with tons of glitter, resulting in unique and fun headbands and resin hair clips made for the young and young at heart. Each item is made with lots of love in Arlington, Virginia. Kristine Makes can be found on Etsy at kristinemakes.etsy.com and on Instagram @KristineMakes_

Explore a World of Lebanese Flavors
Lebanese Taverna offers a new wine membership exploring the wine of Lebanon. Members of A Lebanese Wine Tour will gain access to the world of Lebanese wines from old, historic vineyards to new up-and-coming wineries. Experience the vast range of flavors, varietals, and terroirs from a country the size of Connecticut. A month's list of featured wines may include: Domaine des Tourelles 'Marquis des Beys', Bekaa Valley, Lebanon; Atibaia Winery 'Atibaia' Red, Batroun, Lebanon; Chateau Kefraya Red, Bekaa Valley, Lebanon. You can choose from packages of two bottles to six bottles, and members also receive a monthly gift from the kitchen, such as hommus and pita, tasting notes & educational content around their wines, and first access to special events at Lebanese Taverna. In addition, they are now offering the A Journey Through Lebanon package. Each month, you'll be taken on a carefully curated culinary tour highlighting the vast depth and the subtle complexity of Lebanese cuisine. table22.com/lebanese-taverna

Italian Gift Baskets From Lupo Verde Osteria
Lupo Verde Osteria is offering holiday gift baskets filled with authentic Italian goodies like handmade pesto, hazelnut spread, and Lupo Verde's signature Organic olive oil that can give your holiday dinner an Italian twist. There are three options for the gift basket with a small set ($49), medium set ($84), and large set ($120). Shipping within the US is available and custom sets are also available by request. lupoverdeosteriaalimentari.com

NEW: Housemade Panettone, Italian Gift Baskets
For the friend in your life who dreams of traveling to Italy, give them the next best thing with these authentic Italian gifts. Chef Nicholas Steffanelli has put together an array of gifts from Michelin-starred Masseria and Officina that anyone who wants to live 'La Dolce Vita' will appreciate. Try his panettone, made in-house at Officina, or order a gift basket that features Italian food and drink staples from Officina and Masseria. This year's baskets include everything from an at home Amaro-tasting kit to a basket stocked with all the Italian cooking essentials from Officina's popular pantry. Gift baskets starting at $84. Housemade panettone, $55 each. officinadc.com/holiday-gifts
Fan Favorites From Milk Bar
Milk Bar's holiday offerings are available for in store pickup and online at milkbarstore.com for delivery. Perfect for sending a holiday care package to a loved one, or for treating yourself at your local Milk Bar bakery to get into the holiday spirit. Choose from Peppermint Bark Cake, with rich, peppermint-soaked dark chocolate cake and layers up with crunchy cocoa crumbs, silky chocolate fudge, creamy peppermint frosting, and crushed candy cane bits; Peppermint Bark Cake Truffles, with fudgy double chocolate chip cake, crushed candy cane bits, red and white sprinkles, and cool peppermint sand, and Peppermint Pretzel Snaps, the best-selling cookie meets confection packed with layers of pretzels, peppermint, caramel, and chocolate combined atop a crisp dark chocolate wafer before the whole thing gets dipped in silky white chocolate peppermint bark.

Ethical Local Meats for the Conscious Carnivore
Near Country Provisions, the DMV's own farm-to-doorstep subscription service for local, pastured meats and wild-caught fish have launched new gift offerings for the 2021 Holiday Season. Gifts are one-charge / one-delivery affairs. Gift-givers don't need to commit to ongoing subscriptions. Choose from popular meat combinations, and the delivery size that's right for your recipient. Since launching in March 2020 offering only100% grass-fed beef and pastured pork, Near Country Provisions now also sources and delivers pastured chicken and wild-caught fish -- i.e., great options for white-meat eaters and pescatarians, too. nearcountry.com

NRG Provision's Gift For The Beer Lover
The fine folks at the ChurchKey Beer Shop are celebrating the holidays the only way they know how: with an Advent Beer Box featuring 24 of the rarest and most exciting beers from the likes of Other Half, Bissell Brothers, Drekker, Bluejacket, Vitamin Sea, WeldWerks and more. While the cans remain under wraps (literally), you'll find 24 different beers from 20 of the most exciting breweries around, all for $130. Pre-orders for ChurchKey's Advent Beer Box are now live – but don't delay, limited quantities available! Simply choose if you'd like pick up or delivery, ready to go on a date of your choosing from Saturday, November 27th through Wednesday, December 1st. Hoppy holidays, indeed. nrgprovisions.com

For The Italophile Foodies
If you can't travel to Italy, this is the best year for an Italian-style holiday. Olio2go features the finest Italian gifts with selections of extra virgin olive oils and vinegars, as well as simply precious little extravagances for those on your gift list. Shop with them online or in their Fairfax store. Don't miss the bountiful table of treats featuring mazing panettone, enticing panforte, satisfying biscotti and amaretti, luscious figs, and silky chocolates, as well as delightful Modica chocolates, all to celebrate the season. 8400 Hilltop Road, Fairfax VA; olio2go.com

Pennyroyal Station Holiday Treats
Mount Rainier's Pennyroyal Station is making guests' at-home holiday a little merrier holiday gift packages, made by chef Jesse Miller, that double as the perfect building blocks of an epic cheese board for sharing amongst the family. Packages ($38) include a jar of bourbon apple butter, chicken liver mousse, house made porchetta, and maple fudge. A vegetarian version ($38) featuring wild mushroom pâté, Saint-André cheese, bourbon apple butter, and maple fudge is also available. In addition to the packages, each item is available for purchase à la carte. You may add festive drink options for an additional charge. Orders can be placed via the Toast takeout tab on pennyroyalstation.com. Orders must be placed by December 20 for pickup at the restaurant on December 23.
Chocolate Covered Pretzels, Anywhere
Philly Pretzel Factory, home of Philadelphia's iconic soft pretzel, is partnering with Asher's Chocolate Company to provide chocolate covered pretzels. These chocolate covered pretzels are a great gift to clients, customers, family and friends and can be shipped anywhere in the continental US. The Gourmet Chocolate Covered Pretzel Tower includes: [3] Oreo Cookie Pretzels, [3] Rainbow Sprinkles Pretzels, [3] Mini M&M's Pretzels, [3] Mini Peanut Butter Chips Pretzels, [12] Milk Chocolate Pretzels, [12] Dark Chocolate Pretzels. Priced at $49.99, the Gourmet Chocolate Covered Pretzel Tower is available to be shipped anywhere in the continental United States. phillypretzelfactory.com

NEW: Custom Picnic Experiences
With Picnic & Peonies, you work one-on-one with the "picnicker-in-chief" to personalize each pop-up experience, including, but not limited to, Instagram-worthy charcuterie boards, freshly arranged flowers, tablescapes, seating decor and more. For the winter season, P&P has launched holiday themed tablescapes and hot cocoa add ons. Picnickers can also purchase a Picnic & Peonies Christmas Cracker. A tradition in founder Michelle's family, the P&P Christmas Cracker includes a gift card (value of your choice, sold separately), a prize (peony scented lip balm) and a paper crown. Prices for the cracker are $24.99. picnicandpeonies.com

For The All-Natural Friend Who Has Everything
"Natural" shouldn't mean weak — and through the powerful, bacteria killing properties of its overproof whiskey and vodka base, Pit Liquor is helping change the category one armpit and body at a time. Who knew whiskey and vodka could be so effective? Erica Feucht knew. After struggling to find a reliable natural deodorant, this Colorado-based CEO and her husband Jason created the Pit Liquor brand using an uncompromising focus on 100% natural ingredients and sustainable sourcing and packaging. With aromas solely crafted from ingredients like lavender and cloves steeped in their raw form, this innovative brand is vegan, eco-friendly and confidence building. The inventive scents are available on as sprays or roll-ons in singles or bundles. Starting at $12.95 - To learn more visit pitliquor.com

Resy x Mah-Ze-Dar For The Cookie Monster
The second annual Resy Cookie Box—a gourmet take on homemade holiday cookie boxes—is now on sale. This year, the restaurant reservation app teamed up with New York's Mah-Ze-Dahr Bakery, a West Village bakery that opened in 2016, to bake cookies for the box using brand-new recipes from culinary masterminds like Daniel Boulud of NYC's Daniel, Alon Shaya of Saba in New Orleans, and, of course, Mah-Ze-Dahr's founder Umber Ahmad. The boxes go on sale for $79 including shipping. mahzedahrbakery.com

Hand-Selected Wines from RPM
The RPM Wine Club features hand-selected wines by wine director Richard Hanauer, and the RPM Restaurants' team of sommeliers. During the month of December, subscribers will receive a case containing three unique bottles, with descriptions and tasting notes. There are two tiers to choose from: Premier for $150, or Marquee for $250. Each box will include two bottles of red wine and one bottle of white. This is for the month of December only and is available for pick-up from December 13 – December 18 between 12 p.m. – 6:40 p.m. or delivery on December 12. To order: exploretock.com/rpmwineclub
SIMPLi Ethically Sourced Gifts
Simpli is a modern, ethically sourced single-origin ingredients brand on a mission to build a more transparent international supply chain, combat climate change and improve the livelihoods of international farmers and their communities. This woman- and BIPOC-founded brand is the perfect way to support small business and offer products that make the perfect white elephant, stocking stuffer, or foodie gift. Offerings include The Salt - Hand Harvested Blush Pink Salt in Ceramic Vessel - $24; White Quinoa in Handmade Peruvian Textile Bags (set of 5) - $45; Cold Pressed Greek Oil Set (EVOO + EVOO/Sunflower Blend) - $29.99. Find more at simpligood.co

Thrasher's Rum-Ron-Rhum Shoppe
Todd Thrasher has once again transformed the front room of Potomac Distilling and Tiki TNT into a holiday shop. Special holiday gifts include the newest addition to the award-winning Thrasher's Rum portfolio - Thrasher's Relaxed Rum [$48], aged in New American White Oak barrels for over two years. The deep, natural amber color is married with a smooth flavor that is similar to bourbon, featuring an essence of vanilla and tobacco with smoky notes. Other standout selections include Thrasher's Rum Custom Cocktail Cases - choose the 11:11 Cocktail Case [$70] including a bottle Thrasher's White Rum, the 11:11 cocktail mix of Pineapple Rum, Spiced Hibiscus, and Lime, and a custom Tiki TNT mug. Or, opt for the Spiced Rum Old Fashioned Cocktail Case [$60] featuring a bottle of Thrasher's Spiced Rum, the Spiced Old Fashioned blend made complete with all the ingredients needed for a rum-fueled riff on the classic cocktail, and a Thrasher's Rum Old Fashioned glass! Make it the most wonderful time of the year with the Mai Tai Cocktail Case [$70] sharing a Mai Tai cocktail Mix, Thrasher's Spiced Rum, and custom Tiki TNT mug. Keep the party going at home with seasonal cocktails to-go, handcrafted mixers, elixirs, and bitters, hard to find rums, Tiki TNT apparel, and limited-edition custom Tiki Mugs and Flasks. 1130 Maine Ave SW.