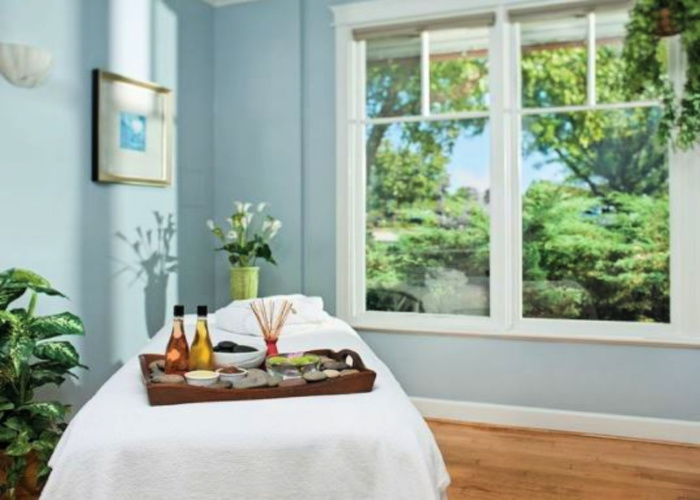 Stay-cation When You Can't Get Out of Town
Summer 2021 has just been activated. Literally, no reason to sit there and sweat, when there are so many cool ways to enjoy this city.

Adams Morgan Movie Nights: "Made in DC" Movies
The Adams Morgan Partnership Business Improvement District (BID) has announced the return of their free Adams Morgan Movie Nights. Every Monday evening from July 12 - August 9, grab a blanket, a friend, and a meal from a neighborhood restaurant to watch films under the night sky. Movies are shown about 30 minutes after sunset at the Marie Reed Recreation Center's soccer field at 18th and California Streets, NW. Restaurants in the neighborhood will be offering special takeout meals that attendees can bring to the field. Prefer to dine before the film starts? Enjoy one of the many Adams Morgan restaurants serving cuisines from around the world from cheap eats to Michelin-starred meals.
Movie Screening Schedule:
July 12: Punk the Capital (scenes in Adams Morgan)
July 19: Wonder Woman 1984
July 26: In The Line of Fire (scenes in Adams Morgan)
August 2: Night at the Museum: Battle of the Smithsonian
August 9: All the President's Men (on the anniversary of Nixon's resignation)
Insomnia Cookies in Adams Morgan is giving away 150 individually-wrapped, hot-out-of-the-oven, cookies to guests on a first-come-first-serve basis at each movie screening. August 16 is being held as a rain date if one of the movies is cancelled due to inclement weather. admodc.org/movies

Comet Ping Pong's Summer Outdoor Music Series
Beginning July 19th and continuing to August 16th, Comet will present a series of 7:00 p.m. concerts in their parking lot pizza garden for a limited audience of pre-reserved, seated, dine-in guests. The summer schedule features artists ranging from jazz to bluegrass to indie rock to folk, and each performance will feature a comedy opening act to be announced. Tickets are available by purchasing a table which seats up to 2, 4 or 8 guests per table. There will be a 2 drink minimum for all attendees, and food and drinks will be available to purchase from Comet Ping Pong and Buck's Fishing & Camping. 5037 Connecticut Avenue NW; eventbrite.com
The Dock Days of Summer at DC Brau
From 2:00 to 5:00 p.m. every Sunday through September, DC Brau will be hosting local bands and DJs on their loading dock for guests in the beer garden and taproom. No cover, all ages welcome (although you must be 21+ to consume alcohol). The current line-up includes:
7/18 - Brothers Brau & Friends
7/25 - Dead on the Dock with The Black Muddy River Band
8/1 - Jess Lake Trio
8/8 - Chris Nitti and Juan Zapata
8/22 - Dead on the Dock with The Black Muddy River Band
8/29 - Brothers Brau & Friends
9/5 - The Ornette Hawkins Trio
9/12 - Brothers Brau & Friends
9/26 - Dead on the Dock with The Black Muddy River Band
Follow @dcbrau on social media for updates and more information. 3178 Bladensburg Road NE; dcbrau.com

Events DC Summer Concert Series
Kicking off on Thursday, July 22nd with Grammy-nominated Robert Randolph and The Family Band, EventsDC will host four nights of live music at the Entertainment & Sports Arena, with DC-based go-go group Junkyard Band on Friday, local electronic duo Thievery Corporation on Saturday, and international Latin popstar Jason Cerda on Sunday. By giving local talent the stage, EventsDC is leading the charge in bringing live music and large-scale events back to life this summer. ticketmaster.com

HEIST Summer Series at the Kennedy Center
Nightlife will meet picture-perfect views and culture at HEIST Summer Series, a reimagined pop-up concept on the rooftop of the Kennedy Center. Conceived as a joyous return to DC life after more than a year of isolation, the HEIST Summer Series elevates Washington nightlife by bringing the unique aesthetic of the famed Dupont Circle nightclub HEIST outdoors for a season of memorable experiences, bottle service offerings and live DJs, every Saturday night for eight weeks. Versus -- the parent company behind Castas Rum Bar, Morris American Bar and HEIST -- is bringing the event to life, while Emmy-nominated producer Robert Pullen (President Barack Obama's 2009 inaugural swearing-in ceremony, Lincoln Center Honors and the Great American Songbook Hall of Fame) will produce the series. With a glamorous and exclusive design echoing the sleek sophistication of the original HEIST location, the sprawling terrace lounge will play home to 60 VIP tables boasting unparalleled views of the Potomac River, Georgetown waterfront, and more. Tables start at $240 and come with admission for up to 6 guests, a dessert tray and a bottle of Moët & Chandon champagne. Cabanas start at a $500 minimum spend towards alcohol and include: priority admission for up to 10 guests, private elevator access, dessert trays, prime seating and a Red Bull package. Open on Saturdays from 9pm to 1:30am for eight weeks. Reservations will go live every Tuesday at 10:00 a.m. 2700 F Street NW; heistsummerseries.com

Hi-Lawn Theme Nights
Every Thursday from 7:30 to 9:30 p.m., local musicians are performing Live on the Lawn, with a lineup ranging from funk & soul grooves from Jarreau Williams, to high energy cover band The Perfectionists, to retro hits from Cathy D Music. Local concerts are free to attend, but reservations are recommended. And every Monday from 3:00 to 10:00 p.m., Hi-Lawn is hosting a nautical-themed deck party featuring seaside specials (freshly-shucked oysters, fried clam strips and lobster rolls), plus discounted Champagne (in bottle, magnum and half-bottle formats) and buckets of beer. Come mid-July, Hi-Lawn will launch Games We Play Tuesdays featuring communal lawn games, such as giant chess, Jenga, cornhole and more, plus themed specials for the night. 1309 5th Street NE; hilawndc.com

Immersive Art Installation "Inside the Wardrobe"
The 20,000-square-foot, walk-through exhibit is a celebration of self-expression that invites guests to get reacquainted with the fun of getting dressed. After a year that saw many people trade their work clothes for leggings, once and future fashionistas will delight in "Inside the Wardrobe," an experiential art installation that explores the concept of self-expression through fashion. Staged in a 20,000-square-foot space in Georgetown Park, "Inside the Wardrobe" will take visitors on a journey through more than 20 interactive experiences focused on the fun and tactile nature of engaging with your closet. At every turn, guests will be surrounded by style, in an endlessly Instagrammable fashion funhouse that will spark a conversation about the evolving nature of style and how we present ourselves to the world. Design Foundry, a DC-based events company known for its artistic event displays, has put together a small army of designers, creatives, craftspeople and carpenters to create this first-of-its-kind, open-to-the-public fashion funhouse. "Inside the Wardrobe" will run through Aug. 29, Thursday-Sunday. The exhibition will be open on Thursdays and Fridays, 5 p.m.-9 p.m. and Saturdays and Sundays, 10 a.m.-9 p.m. $28 (adults); students, seniors, military, and first responders ($24); and children 4+ ($19). A portion of the proceeds will go to designated charity partners, all of which strive to support self-expression and empowerment. 3270 M Street NW, Suite C100; insidethewardrobe.com

#Cottagecore at Kingsmill Resort
Families and friends are discovering the block of luxury cottages at Kingsmill Resort and turning it into their own neighborhood. Kingsmill Resort, located in Williamsburg, VA, is welcoming large family and friend groups with an offer to rent an entire block of private luxury cottages on the beautiful James River. They'll even change the street sign for your visit and offer a private chef. The resort is also home to a million-dollar spa, indoor and outdoor pools, lazy river, five restaurants and is located only minutes away from famous Williamsburg attractions including Busch Gardens, Colonial Williamsburg, and Jamestown. There's something for every member of the family and all skill levels with offerings such as championship golf, hiking, biking, pontoon, jet ski and kayak rentals, fishing and tennis. Kingsmill Resort is about 2.5 hours from DC and 45 minutes from Richmond. For more information, visit kingsmill.com for specific details or call 800.832.5665.

National Landing's Summer House
National Landing has opened Summer House, a pop-up installation where you can work, play and celebrate with co-workers, friends and family. The installation is a co-working pop-up by day, and a meet up spot, happy hour destination, and activation space by night. From downward dog to DJ dance parties, Summer House will feature weekly Summer Series events through August that include giveaways, activities, and more such as: Coffee Breaks - Enjoy free cold brew to fuel your workday while utilizing Summer House's colorful desks and convenient Wi-Fi; Happy Hour DJ Sets - Log off to the tune of your favorite summer jams with live DJs from across the DMV; Camp Summer House - Get nostalgic for summer camp with activities like friendship bracelet-making, field day games, tie dye, and more. Summer House To-Go - Take your friends on the ultimate summer picnic with all the necessities prepared by Summer House including food from local restaurants, coolers, koozies, and Yoga & Cocktails - Close out the day with an energizing outdoor yoga class followed by complimentary cocktails.101 12th Street, Arlington, VA; nationallanding.org

Café Cinema at Opaline
Opaline Bar & Brasserie Patio is presenting Café Cinema every Wednesday evening at dusk with classic films, spirited Unicones and savory-seasoned popcorn. In addition to Chef Jonathan De Paz's French-inspired menu, guests will enjoy bottomless savory-seasoned popcorn for $3 and spirited Unicones for $9 each (non-alcoholic options also available). Savory popcorn is Cajun and truffle flavored, and Unicones are made with rum, tequila or vodka. 806 15th Street NW; 202.730.8701; opalinedc.com

Replay! At Gaylord National
Gaylord National Resort & Convention Center is once again ready to welcome guests to the Potomac River waterfront at National Harbor. Following $64 million in guest room renovations, the resort is prepared to open its doors and welcome visitors with totally redesigned guestrooms, Marriott International's "Commitment to Clean" protocols, family fun activities, river view yoga, a popup rooftop lounge and more. Summer celebrations start at the top with Replay! at Pose Rooftop Lounge, an 80's themed pop-up bar offering picture perfect, over the top milkshakes like the boozy PB&J, and a snazzy collection of cocktails including a raspberry rose float. The wraparound rooftop bar will feature Insta-worthy environments, neon lights, retro arcade games and the best of 80's music. A family-fun venue, perfect for sweet treats and amazing views during the day, and a 21 and over trip back in time at night. gaylordnational.com

Staycation Getaway at The Ritz
Just over the bridge from DC in Arlington, The Ritz-Carlton Pentagon City underwent a multi-million dollar renovation, and features sweeping views of the monuments and downtown. The hotel is offering a great staycation package for local travelers looking to get away this summer, but without hopping on a plane. The Staycation 'Rediscover Local' Package is valid through December 31, 2021. This package encourages locals to find their own travel inspiration, experiencing our beautiful city and its surroundings. This packages includes: Breakfast in the hotel restaurant for up to 2 adults; Exclusive 20% savings in Food and Beverage outlets including the hotel's beloved Afternoon Tea experience; Complimentary hotel parking; Late check-out upon availability, destination experiences with a reduced price, complimentary souvenir, and more.ritzcarlton.com

Sandlot Tysons
Sandlot Tysons, the fourth iteration of the Sandlot brand and the first outside of DC Proper, has opened at The Boro. In partnership with The Meridian Group and The Boro, Sandlot Tysons will introduce a new twist on their offerings, providing a mix of cultural programming in collaboration with retailers, residential and office tenants and patrons of The Boro. The new, expansive mural by Jessie and Katey will be the iconic backdrop to Sandlot Tysons. Building off of The Boro's lively pedestrian activity, Sandlot Tysons will host a calendar of cultural arts events and experiences for the community to enjoy, including weekly programs like Car Wash & Cocktails with Xact Detail every Friday, Free outdoor fitness and workout sessions with the Sweat DC team every Saturday morning, Live regional DJ's from Rock Creek Social Club, Joy Club, Adobo DMV and more every Saturday, Sunset Sip & Paint Sessions with renowned artist Lex Marie every Sunday and more.1640 Boro Place, McLean, VA; sandlottysons.com

Sculpture Garden Summer Concert Series
Live music is back at the National Gallery of Art Sculpture Garden. The National Gallery closes out the summer with four outdoor concerts in the Sculpture Garden. The series not only revisits jazz, but it also offers the expanded musical genres of global psychedelia, mariachi, and brass. Concerts in the Sculpture Garden are held every other Thursday evening beginning July 29 and continuing to August 12, August 26, and September 9, 2021. World music group Bombay Rickey kicks off the first concert, followed by Baltimore Jazz Collective, US Army Brass, and the all-women mariachi band Flor de Toloache. The Bombay Rickey concert on July 29 is the first in-person program held at the National Gallery of Art since March 8, 2020. To ensure the safety and enjoyment of all guests, all concert-goers over the age of two need a free pass for admission. Passes will be released at tickets.nga.gov/events two weeks in advance of the concert date: July 29 for Baltimore Jazz Collective on August 12; August 12 for US Army Brass on August 26; and August 26 for Flor de Toloache on September 9. The National Gallery of Art's Sculpture Garden is located on the north side of the National Mall. On concert days, the Sculpture Garden closes to the public at 4:00 p.m. Gates reopen at 5:00 p.m. Concerts start at 6:00 p.m., and the evening ends at 8:30 p.m. Admittance to ticket holders is provided throughout the evening.
After Hours at The Station
Every Friday through August 13 from 6 to 9 pm, The Station will host exciting, family- and dog-friendly programming on The Village Green, including Live Music: Show off your favorite moves while DJ Steven Faith spins sets that are sure to have Village Green moving and grooving all night long; Outdoor Games: From nine-hole mini golf to extra large Jenga, Connect Four, Dominos, and more, The Station's gaming hut will have everything you need for a fun and competitive night; Scavenger Hunt: Explore The Station and all it has to offer, from Sir Rulean to snail trail and more, with an engaging, kid-friendly scavenger hunt; Giveaways, Prizes and More: What's a night of fun and games without a few prizes to give away? After Hours guests will have the chance to take home glow sticks, dog bandanas, sunglasses, beach balls and more. Grab your free ticket, bring blankets and chairs and even grab dinner at one of The Station's restaurants for a family and fun-filled summer. 6621 Baltimore Avenue, Riverdale Park, MD; eventbrite.com

The Drive-In at Union Market
Let's roll down the windows, feel that summer breeze and turn up the radio because the 9th Annual Drive-In at Union Market is back. A DC "must-do," the series of six movies will launch the first Friday of every month through October 1. While enjoying films under the stars, enjoy dozens of local, regional and international foods: Egyptian favorites by Fava Pot, night market noodles from Som Tam, ice cream locally churned by The Creamery, tasty takeout burgers from Lucky Buns and more. Alcohol purchased from Market vendors is permitted on Neal Place. Alcohol is not allowed in the parking lot. For those on foot, pack your chairs and blankets and set up shop in front of Union Market for great views and picnic-style entertainment. Tickets are not required to watch on Neal Place. Movie audio will be transmitted through an FM transmitter on the radio. As always, all movies are shown with open captioning. Each movie showing costs $20 per car. 1309 5th St NE; unionmarketdc.com