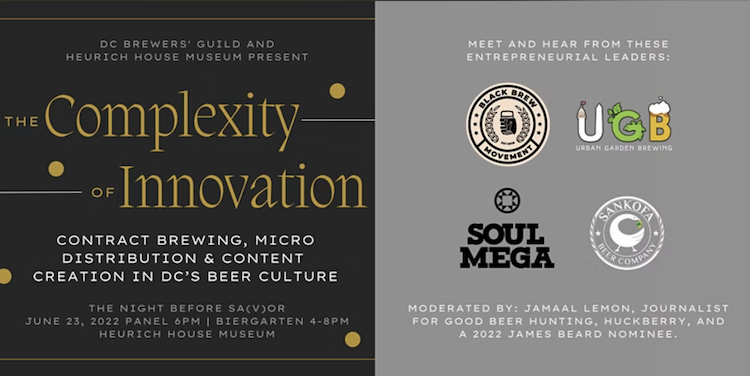 The Complexity of Innovation by DC Brewers' Guild & Heurich House Museum
June 23,2022 – June 23,2022

all-day
Heurich House Museum
1307 New Hampshire Avenue Northwest
Nearly ninety-eight percent of craft beer sold in America comes out of a brick-and-mortar brewing facility operated by the beer brand itself, yet the majority of new beer brands that have opened in DC in the last five years run on alternative models, like contract-brewing and micro-distribution. Moreover, DC has the largest concentration of Black-owned beer brands in the nation and every brand contract brews their products. Are these new craft beer business models part of a new "alternative class of collaboratively minded brewers [who] are challenging the very concepts of ownership and capital"? Why did these innovative business owners choose the models they did and how did they get their brands off the ground?
Meet and hear from these entrepreneurial leaders on Thursday, June 23rd in an exciting panel discussion and reception co-hosted by the DC Brewers' Guild and Heurich House Museum the night before SA(V)OR 2022.

This event will take place at the Heurich House Museum from 6:00 to 7:30 p.m. The biergarten at the Heurich House Museum will be open 4:00 to 8:00 p.m. for guests to enjoy local craft beer. $15 for access to the in person panel, biergarten entry is free. Drinks not included with event ticket. Virtual tickets are free, a Zoom link will be sent twenty-four hours in advance of the panel. For more information or to register, please click here.