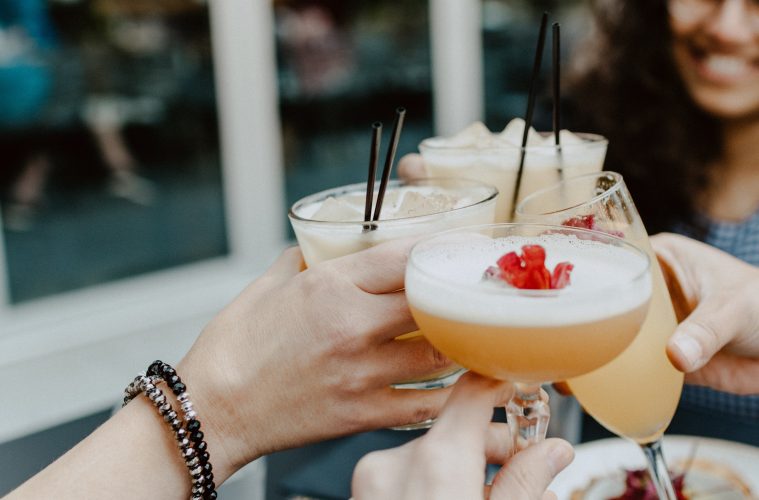 SIPS THAT ARE SURE TO PLEASE
Menage A Trois Make it a menage a trois at Buffalo & Bergen with a tryst of cocktails from mixologist Gina Chersvani for $30! Choose your own boozy beverage adventure with drinks like the Fade Into You cocktail with Silencio Mezcal, Espolon Silver, fresh Lime Juice, and fresh Carrot Juice, with Coco Lopez or the Love Song with Deadwood Rye, Beet Juice, Lemon Juice, Ginger Juice, Egg White, Cranberry Syrup, and a dash of Cherry Bark Vanilla Bitters, garnished with Edible Lace.
.
Cherry Blossom Cocktail This year Cherry Blossom Festival will formally kick-off with the annual Pink Tie Party on March 20, 2020. This year at The Watergate Hotel and the 2020 Cherry Blossom Festival, The Next Whisky Bar Head Bartender and supervisor, Rachel Sergi, will debut her award-winning libation, Philosophers Walk. This beautifully blossomed beverage was selected at this years pre-party bartenders competition for the Cherry Blossom Festival and will be presented as the official drink at this years Pink Tie Party. Philosopher's Walk blazes a new trail of its own: a cocktail that creates a calming, yet simultaneously sensory journey akin to that of the iconic walkway that follows a cherry-tree-lined canal in Kyoto, Japan, from which it drew inspiration.
Cocktails from the House With International Women's Day coming up on Sunday, March 8, Lupo Verde has created a cocktail that pays homage to Speaker of the United States House of Representatives Nancy Pelosi. Created by the beverage team of Lupo Verde, a rustic Italian restaurant located in the heart of the nation's capital, The Nancy Pelosi is named after this famous woman, showcasing ingredients that highlight certain aspects of her life. The Nancy Pelosi cocktail incorporates Makers Mark whiskey, Amaro Nocino del Molise (a sticky dark brown liqueur from the Emilia-Romagna region of Northern Italy where Pelosia's mother is from). The drink also incorporates grapefruit, California avocado syrup (to pay tribute to the 12th District of California, which she represents), Chantilly chocolate bitters and local beer (Pelosi is known to enjoy chocolate and beer) and is garnished with a mint leaf and a chocolate stick. You notice this cocktail incorporates seven ingredients as Pelosi is the youngest of seven children.
Hot Cocktails
Stable
owner and beverage director
Silvan Kraemer has
crafted hot cocktails to warm you up this season. The hot libations stay true to the all things Swiss mantra at Stable, utilizing spirits from Switzerland or harkening back to classic winter cocktails enjoyed in Kraemers native country.
The hot boozy beverage roster includes
G
hwein ($9),
a
signature Swiss hot spiced red wine
,
Feuerzange ($14)
featuring
mulled wine flambed with Goldschlager Cinnamon Schnapps
Liqueur and
Jagertee ($9)
with
Spiced Stroh Rum, hot water, and lemon
.