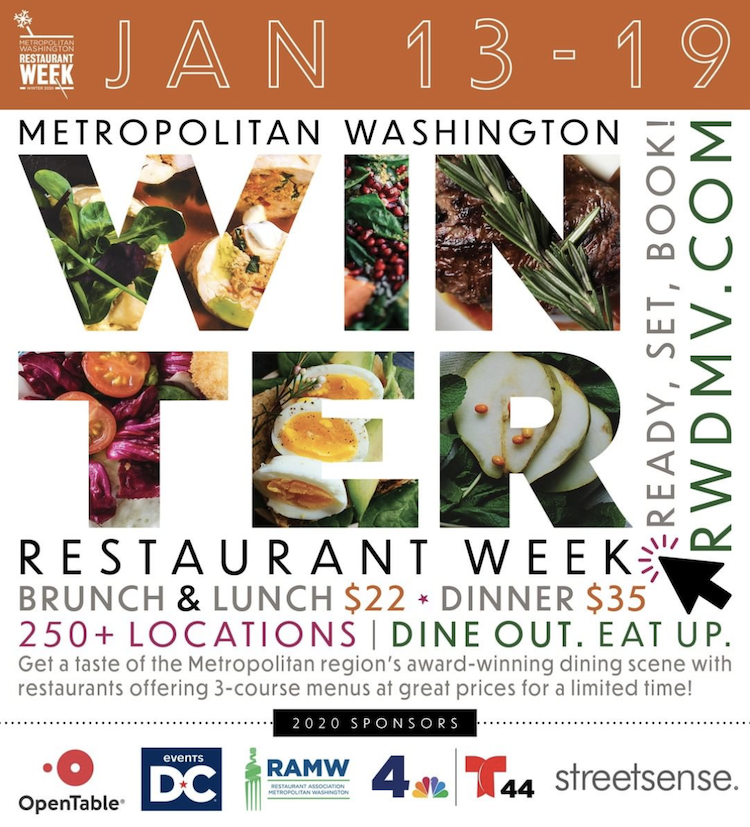 WINTER RESTAURANT WEEKS
Bethesda Magazine Winter Restaurant Week "
You can enjoy lunch, dinner (or brunch at select restaurants!) during
Bethesda Magazine Restaurant Week,
January 10 " 19! Participating restaurants choose how many courses to offer and the price for their prix fixe menus. You choose the restaurants you want to visit based on what fits your budget and your taste buds.
.
Metropolitan Washington Winter Restaurant Week " Restaurant Association Metropolitan Washington
(RAMW) announced the roster of restaurants participating in Winter Restaurant Week from Monday, January 13, through Sunday, January 19, 2020. The biannual promotion's website
www.rwdmv.com
is live and will be updated regularly with menus from each of the participating restaurants representing diverse communities around DC, Maryland, and Northern Virginia. Restaurants are the cornerstone of neighborhoods around the DMV and Winter Restaurant Week is a time for locals and visitors to enjoy specially priced, multi-course $35 dinner, $22 lunch, and $22 brunch menus.
.
Alexandria Winter Restaurant Week " Alexandria, Virginia, will offer a $35 three-course dinner for one OR a $35 dinner for two during Alexandria Winter Restaurant Week, January 17-26, 2020. Thirty-five restaurants will also offer lunch menus at $15 or $22 per person in addition to the dinner specials. Brunch lovers can enjoy brunch menus for $15 or $22 per person at more than a dozen restaurants. Alexandria Winter Restaurant Week showcases the inventiveness of local chefs in neighborhoods throughout the city, including Old Town, Del Ray, Carlyle and Eisenhower, and the West End. At a range of locales, from neighborhood favorites to restaurants specializing in international cuisine, guests will savor the flavors of Alexandria's distinctive collection of eateries.