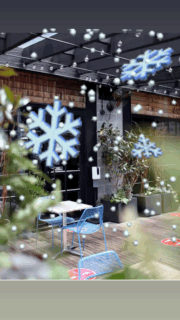 P-p-patio Pleasures

As the great late Tom Petty said, Into the great wide open … or not actually wide … but definitely open. Area restaurants and bars are once again going to put on their thinking caps and offer warm, fun, and safe ways to drink and dine outside during the cooler months.

#BundleUp Winter at Caboose Brewery
Caboose Brewery in Vienna is launching a grassroots #BundleUp Winter Campaign to encourage individuals to creatively bundle up in their winter garb, fun hockey gear, or ski fashion flair and still support restaurants, breweries, and coffee shops during the tough Jan/Feb winter months. As eateries and breweries continue to be hit by COVID, now more than ever it is critical for folks to get creative and still dine, drink and support their local businesses. The goal is to see this movement scale to other locales in the region, such as Lake Anne Brewhouse in Reston, Va. For more information, visit caboosebrewing.com/bundleup.

The Punch Garden at Columbia Room
While the Spirits Library and Tasting Room still sleep (until DC enters Phase Three), Columbia Room is thrilled to welcome you back to the (heated and covered) Punch Garden. This reopening brings you back to the basics of Columbia Room: cocktails crafted à la minute, a good glass that feels both familiar and indulgent in your hand, and the simple joy of sipping a drink with a friend. Reservations for the patio are not required, but suggested as space is limited. Reservations are available here. Columbia Room remains committed to the safety and health of staff and guests above all else. Please see their full list of COVID guidelines and protocols at columbiaroomdc.com/reopening-1.

Winter Lodge Pop Up at Dacha Navy Yard
Chef Jerome Grant, executive chef of Jackie - American Bistro and veteran of the Sweet Home Cafe at the National Museum of African American History and Culture, and his culinary team bring the unique flavors of his cooking outdoors with the launch of the Winter Lodge pop up at Dacha's Navy Yard location. With ongoing precautions about indoor dining, the team at Jackie and Dacha made the decision to add a new dimension to Dacha's famous beer garden as a cozy, family-friendly beer winter oasis that's tented, full of heat lamps, and offering fleece blankets for sale. The brand new menu focuses on hearty soups, hand-helds, and snacks along with Jackie's signature fried chicken. For dessert, chef Stephanie Milne has created a warm apple hand pie, the quintessential winter sweet. Start your experience with one of the specialty cocktails such as spiked hot chocolate or apple cider featuring house-made whipped cream, settle in by the fire, and enjoy the views of the Anacostia River and Nats Park just steps away. For more information, visit dachadc.com.

Del Mar Winter Igloos
Enjoy fine food and drink from Del Mar's full a la carte menu in the private retreat of their cozy winter igloos. Igloos are located on the 2nd floor Terraza overlooking the Wharf and accommodate up to 6 guests each for a two-hour experience. Igloos require a $150 rental fee and a food and beverage minimum of $75 per person. For more information, visit exploretock.com/delmardc.

Igloo at Farmers & Distillers
Farmers & Distillers now has an Igloo on the patio. With seating for up to 6 people, you can reserve the igloo in 90-minute increments for a $50 rental fee Sunday through Thursday and $100 Friday & Saturday. The igloo reservation includes a special tasting from their on-site distillery, Founding Spirits. All menus are available in the igloo. For more information, visit farmersanddistillers.com.

Fiola Yurts
Eleven custom-designed Yurts have risen from the Fiola patio, amidst a fleet of seasonal trees, transforming 601 Pennsylvania Avenue into a festive winter village. The tents each seat from four to six patrons of immediate family or friends, offering a one-of-a-kind dining experience at a safe distance from others. The restaurant has partnered with American Express – there is no fee to reserve the yurts – all diners must reserve through Resy and pay with an American Express card. The five-course menu begins at $135 per person and offers an array of courses showcasing the seasonal abundance of Chancellors Rock Farm in Rappahannock County, Virginia. Trabocchi and his team will create a variety of seasonal items from the Fiola Harvest Menu and one signature dish – the Papillote of Wild Foraged Mushrooms with White Truffle – which will be served exclusively in the Yurts. You may add on enhancements from Calvisius Caviar to imported Culatello, as well as offerings from Fiola's Wine Spectator Grand Award-winning cellar. As a special gift, all American Express Platinum Card Members will receive complimentary cider coffee cake to bring home as a morning treat. For reservations, visit resy.com.

Winter Wonderland & Après Ski Sundays at Glover Park Grill
The Winter Wonderland will come alive every Sunday from noon to 9:00 p.m. on the Glover Park Grill outdoor heated terrace. Roast your own s'mores on individual bonfires with homemade marshmallows by chef Alex Levin, while you enjoy an 'Après Ski Tower' featuring pigs in a blanket and mini sandwiches by chef Hamilton Johnson, along with desserts by chef Levin. Sip on spiked homemade hot chocolate for the adults (available non-spiked for the kids) and listen to music, play games, and win prizes as well, all with snow spread all around you. They will also be accepting canned food donations in partnership with DC Central Kitchen. To purchase your tickets, please click here.

Winter Wonderland Patio at HalfSmoke
Snowy days will be vibrant this winter as a 2,500 square-foot parking lot, located adjacent to the restaurant, has been transformed into an outdoor oasis ideal for intimate gatherings with family and friends. This new space can accommodate up to 100 socially distant guests and features a variety of picnic tables for those who wish to enjoy the crisp temperatures as well as 12 heated igloos, which range in size from 12 to 15 feet. These igloos are ideal for private bookings of two to six guests and can be reserved online. The Winter Wonderland is open daily, from 8:00 a.m. to 10:00 p.m. Cozy blankets will be available for purchase and priced at $20 each. Those who reserve one of 12 cozy igloos will be the first to sample dishes from Morning After Next, a new breakfast concept at HalfSmoke. This one-of-a-kind breakfast menu is created by McCain working with his newly appointed executive chef Brian Dunbar and executive sous Chef Ernesto Varona. You can also order from the full menu from HalfSmoke, Butter Me Up, and Get Social, a brand new virtual pizza pop-up which launched earlier this month. To keep spirits warm, savor handcrafted winter cocktails which have just been added to the menu.

Jaleo's outdoor patios
José Andrés' Jaleo in DC and Crystal City feature mood-boosting colorful patios, warmer blowers, and a tapas menu to transport diners to Spain. Reservations can be made on OpenTable.com.

The Loft at Lena's Winter Lodge
Building upon the concept of Lena's Oasis this summer, and the conversion of their patio into the popular Lena's Beer Garden this fall, the restaurant has now converted a second-story space above the main restaurant into an upscale, Aspen-lodge-inspired winter haven. The 4,500 sq. ft loft has been transformed into a unique and socially distant experience channeling a picturesque winter lodge vibe with spacious ceilings, floor-to-ceiling windows, and expansive views. The Yates family partnered once again with REVOLUTION and Christine Godsey of CG&CO Events to design the space. Deep wood tones mix with serene shades of white, cream, and grey to create a color palette that is chic and modern. Fun use of pattern play combined with lush textures and vintage snow-capped portraits transport you to an elegant winter lodge somewhere out West. In addition to Lena's favorites, The Loft at Lena's offerings will feature exclusive appetizers, entrées, and desserts such as slow-cooked pork belly, lobster carbonara, affogato, and holiday sips such as mulled wine, a peppermint bark cocktail, and a honey-lemon toddy. For more information, visit LenasWoodFire.com.

Masseria Courtyard Experience
Extend your La Cucina experience with Masseria's Aperitivo or Dolce experiences. The Aperitivo is a small collection of savory bites and antipasti to enjoy in the courtyard. If you like a little bit more luxury, add on a caviar service and foienoli to enhance the experience. The Dolce begins with a composed cheese bite and is followed by a series of sweet bites. This is an excellent way to enjoy some after-dinner drinks and desserts in the courtyard. If you are a cheese lover, add a cheese plate to your experience. If you are a chocolate lover, you can always add an additional chocolate course as well. Each experience can be enjoyed for $90 for two people. You have the option of adding on pairings (alcoholic and non-alcoholic), cocktails, or wines from the beverage menu. As the weather gets colder, the courtyard will be tented to allow for outdoor dining into the winter. Reservations required. For more information, visit masseria-dc.com.

Oyamel DC Patio
ThinkFoodGroup's Oyamel recently expanded their Penn Square patio. The enclosed sidewalk space features colorful umbrellas for shade and heaters for warmth, and guests are always welcome to bring their own blankets to relax and linger with a margarita. Reservations are available at OpenTable.com.

Blanket Bundle from Silver
Silver: New American Brasserie in Bethesda, Md and Cathedral Heights in DC has expanded its tented, heated patios by 30% and is promoting its heart-healthy menu. Those wanting to take advantage of the winter heated patio can also purchase Silver's blanket bundle. For $20 you get a cozy, fleecy Silver-branded blanket and a warm drink that can be served spiked or un-spiked. Silver continues to practice and adhere to strict CDC and local health guidelines. Masks are required. Individuals, couples, families, and pups are welcome on the Silver outdoor patio, and takeout and delivery are also available. For more information, visit eatatsilver.com\events.

The Viking Village at Hook Hall
Hook Hall has been transformed into a Viking Village with themed "huts", rows of firepits, and a Viking-inspired menu and cocktails. The summer's "cabanas" have turned into cozy spaces with firepits, sectional lounge seating and blankets. Additional huts have been added to Hook Hall's backyard along with 16 fire pitted seating areas in the center of the yard. Each themed hut, available with 2.5 hour reservations at $125, includes a welcome bottle of champagne, heaters, special food and drink menus, a table and the option to keep the "doors" (curtains) open or closed. All huts are weatherproof, keeping heat in and the thunder of Thor out. Each comes with bottle service and a special prefixed food and beverage pairing menu. The Voyages of the Valkyries menu, to be shared by up to six guests, at $24.99 per person, includes winter hummus to share, a rustic beef stew Beef S'kause and a huge macadamia nut cookie. A drink pairing at $19.99 per person includes a welcome glass of mead; Glühwein, the traditional European mulled wine and a Thor's Hammered, a specialty mulled hot cider. You also have the opportunity to enjoy a Viking experience for six people called the Feast of Valhalla. The $59.99 per person feast comes with a winter salad, a two-pound Bavarian hot pretzel, a shield (or tray) of assorted meats and the massive cookie. The drink pairing, at $29.99 per guest, is mead, Viking beer, dark Scandinavian beer and finished off with Thor's Hammered hot cider. Those preferring to be seating in the center yard's firepit area, with a 2.5 hour $15 reservation, have blanketed benches and a personal firepit. For socially distanced celebrations Hook Hall's Viking Village offers lounges both inside its main hall and in the yard: Viking King's Quarters for up to 18 people across 3 tables; Odin's Lounge, inside the main hall for 18 people in lounge seating socially distanced in three groupings; Freya's Field, socially distanced lounge furniture for up to 18 people in the outdoor covered space in front of the bar; an d Thor's Retreat, outdoor private area for up to 12 people socially distanced at two tables. For more information, call 202.629.4339.

Watergate Winter Igloos
Stay warm all winter long in cozy winter igloos. These heated igloos are located on the patio of the Next Whisky Bar and can accommodate up to eight guests each. Rental fees start at $150. Food and beverage minimums range from $50 to $75 per person, depending on time and size of party. 90-minute seatings are available seven days a week from 4:30 p.m. Reservations are available by calling 844.617.1972. For more information, visit thewatergatehotel.com.

Zaytinya's Patio
A longtime go-to for outdoor dining in Penn Quarter, Zaytinya recently winterized their patio. In addition to the signature tulip-shaped umbrellas and Phillip Stark-designed seating, the updated patio features multiple heaters per section for added warmth and a newly tented portion. For reservations, visit OpenTable.com.

3 Stars Brewing Patio
3 Stars is open every Wednesday through Sunday from 2:00 to 7:00 p.m. onsite with a new food menu in their outdoor heated patio. On Saturdays and as reservations permit, they also have fire pits in action to keep everyone warm. Reservations for any of these days can be made at opentable.com.