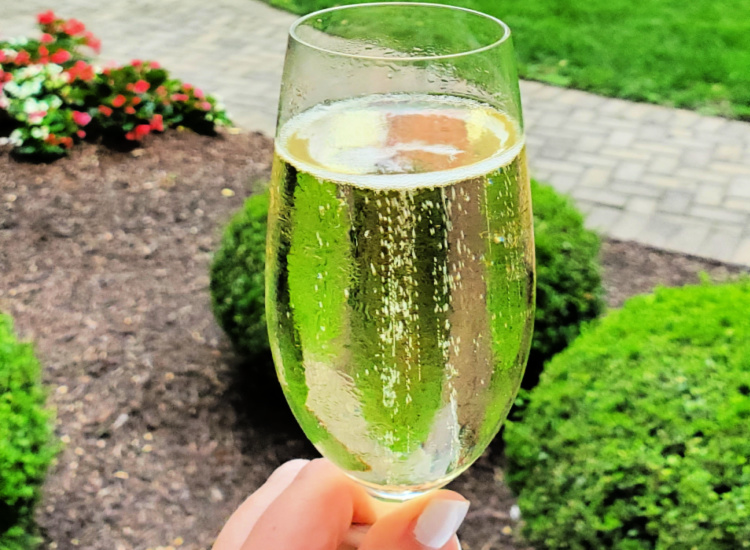 Summer Sips
Photo: Anna-alexandra Rojo Wildman @ Mandarin Oriental
No surprise at the unique libations coming out of DC Area distilleries, bars, and restaurants:

ANXO Pride Cider (Pride Alert 🏳️‍🌈)
ANXO has created a pride cider and donated $3,500 to the Human Rights Campaign. This year's Pride cider is their first foray into lower-abv ciders. At 5.4% ANXO Pride is a total crusher, meant for celebrating outside in June weather. It's light and has a complex and fruity blend of Albemarle Pippin, Jonathan, and GoldRush apples it still packs plenty of ANXO's characteristic flavor. anxocider.com
Bar Ivy
BAR IVY's beverage program creatively complements the light, vibrant menu with seasonal herb and produce-forward drinks, as well as a large wine program featuring eclectic selections from around the world with a focus on low-intervention wines and diverse young winemakers. Proper Cocktails include the aptly-named, violet-hued PURPLETINI (Empress 1908 Gin, Creme de Violette, Rose Vermouth, sour flower water); the tropical TIKI CLANDESTINO (Mezcal, Amaretto, mango, banana, coconut water, chili), and more. 3033 Wilson Boulevard Suite 115R; 703.544.8730; eatbarivy.com

BLive
The new Clarendon hotspot is now offering Patron Margarita Towers during brunch to give you an Insta-worthy and delicious moment. Plus, keep the fun going with their Frozen cocktails, like Frozen Strawberry Lemonade, that are only $8 during happy hour! 2854 Wilson Boulevard; bliveva.com
Capital One Center (Pride Alert 🏳️‍🌈)
Capital One Center is excited to celebrate Pride with a variety of special events and programming this June. The month-long celebration of Pride features merchandise and specialty items benefitting Supporting And Mentoring Youth Advocates And Leaders (SMYAL). Upgrade your golf game at Perch Putt with rainbow golf balls. Swing by Rhum Roost at Perch Putt, where $1.00 of every Tropical Popsicle purchased will be donated to SMYAL. Toast at Wren with a specialty Pride cocktail or grab a Love beer and Love is Love merchandise from Starr Hill Biergarten, where a portion of sales from both go to SMYAL. For more information visit here.
NEW: Capital Wine School
The Capital Wine School is now accepting applications for full scholarships for People of Color for the following WSET qualifications in academic year 2022/2023:
4 scholarships - WSET Level 1

2 scholarships - WSET Level 2

2 scholarships - WSET Level 3

1 scholarship - WSET Level 4 Diploma
Apply by July, 31st. Find out more here.

Catoctin Creek
Grab your glass, we're Cheersing to Scott & Becky Harris of Catoctin Creek. They have won the Dave Pickerell Memorial Craft Member of the Year Award at DISCUS' annual conference at the Hyatt Regency in New Orleans. As tireless advocates for the craft spirits industry both in the Commonwealth of Virginia and internationally, the Harris' were honored for their outstanding service. Together, Scott and Becky have been strong and effective advocates of top legislative and policy issues impacting the spirits sector ranging from passage of the Craft Beverage Modernization and Tax Reform Act and the lifting of tariffs to state issues including direct-to-consumer shipping of spirits. Learn more here.
NEW: Chateau d'Esclans X Chef Daniel Boulud at DBGB
For this summer Château d'Esclans and The Dinex Group have partnered on 'Boulud Sur Mer' at DBGB Kitchen & Bar. With this, the outdoor facades and indoor dining areas turn into a rosé-filled French oasis, where guests can enjoy a meticulously composed meal paired with a refreshing glass of rosé in a fresh, relaxed atmosphere. To pay homage to the vineyards where Château d'Esclans is produced, Chef Daniel Boulud has curated a special Provencal style menu to pair perfectly with the wines. 931 H Street NW; dbgb.com

Churchkey Beer Shop
Churchkey Beer Shop is celebrating SAVOR by holding their 9th annual Brewer's Brunch on June 25th with an amazing menu with 5 main courses and 6 rare beers including a special brewer, 3SonsBrewingCo. 1337 14th Street NW; 202.567.3576;.churchkeydc.com
NEW: Conrad
Summer in DC can be sweltering but with Conrad Washington D.C.'s Sip & Sail Weekend Yacht Experience package, you can enjoy the coolest view of the nation's capital from the water. This luxury package includes a two-night stay at Conrad Washington DC, a bottle of champagne on arrival, Sip & Sail Experience aboard Cru Classé, private transportation to the Cru Classé, and a curated food and wine menu to choose from. 950 New York Avenue NW; conradwashingtondc.com
NEW: DAROM by Yatir
DAROM is a new brand from the renowned Yatir Winery, developed by its respected and talented winemaker Eran Goldwasser. He has been producing award winning and coveted wines for Yatir for more than 20 years. DAROM holds its own, with distinct flavors, characterized by refreshing, accessible grapes based on beloved and familiar varieties from select vineyards in the south. Darom by YATIR addresses wine consumers who want to invest in affordable quality wines, and who enjoy wine on a frequent basis—not just on special occasions—and are open to exploring new and exciting varietals. See more here.

DC Brau
DC Brau is now featuring hard seltzers for those hot summer days. Full Transparency is not only a hard seltzer from the craft beer experts at DC Brau - it is a thoughtfully curated and locally made hard seltzer with regionally-inspired flavors like grapefruit & orange crush. Made locally and naturally gluten-free, Full Transparency comes in nine carefully crafted and innovative flavors including passionfruit orange guava, raspberry limeade, key lime pie crush, and more. Get yours here.

Don Ciccio & Figli (Pride Alert 🏳️‍🌈)
Don Ciccio & Figli president Francesco Amodeo announces Eklectika, a new collection of limited edition liqueurs. Just in time for Pride Month, Tutti Frutti is shaded a vibrant purple and made iridescent with the inclusion of edible glitter, and partial proceeds from its sale will go to benefit local and national LGBTQ+ organizations. 1907 Fairview Avenue NE; 202.957.7792; donciccioefigli.com
Estadio
The Gintonic is a very important cocktail to Spanish culture, and Estadio is once again celebrating Spain's favorite cocktail for the third year in a row with the 3rd Annual "Juniotónico: a Gintonic Festival". All month long, Estadio will showcase creative Gintonic cocktails & slushitos, an expansion of its rare & Spanish "Suitcase Gin" program helmed by owner Max Kuller, "Gindustry Mondays" happy hours. 1520 14th Street NW; 202.319.1404; estadio-dc.com
Fairmont (Pride Alert 🏳️‍🌈)
Celebrate Pride Month at Fairmont with the Love Wins Cocktail. Made with Empress Gin, Civic Vodka, St. Germain and rooftop honey syrup, this refreshing cocktail is purple and garnished with a lemon twist and has hints of juniper and elderflower. 2401 M Street, NW; 202.457.5019; fairmont.com
NEW: Fight Club
Fight Club beverage director Mackenzie Conway and bar manager Cory Holzerland unveil the evolution of their beverage program, which builds on the drinks they developed during their days as a pop-up and is centered around boozy punches on draft. Fans of Fight Club can now sip boozy punches on draft, local beers and "weird" wines during extended hours at Fight Club's new standalone space on Capitol Hill. Drink offerings include the sandia daisy, (mezcal, watermelon water, mint syrup, lemon juice, orange blossom water and salt), and more. 633 Pennsylvania Avenue S.E; 202.885.9714; fightclubdc.com

HipCityVeg (Pride Alert 🏳️‍🌈)
HipCityVeg is celebrating Pride Month with a colorful shake that celebrates gay pride and supports local LGBTQ+ organizations. Available during Pride Month in June, The Love Shake is a lil' old strawberry shake topped with shimmery rainbow sprinkles and garnished with a rainbow straw. HipCityVeg will donate 5% of all sales of The Love Shake to local organizations that directly support the LGBTQ+ communities in Philadelphia, Washington DC, and New York City, where HipCityVeg's restaurants are located. hipcityveg.com
Lena's (Pride Alert 🏳️‍🌈)
Lena's Wood-Fired Pizza & Tap, located in the Del Ray neighborhood of Alexandria, is offering a specialty cocktail during the month of June. The Lena's Stormé spark cocktail includes Republic Restoratives Civic Vodka, apple brandy, watermelon shrub, simple syrup, and more. $1 Donation will be made to Safe Space Nova for every stormé spark ordered during the month of June. 401 E Braddock Road, Alexandria, VA; 703.683. 5330; lenaswoodfire.com
NEW: Miraval
Château MIRAVAL has released their most exclusive rosé, MUSE DE MIRAVAL. Made from an extremely meticulous selection of the Château's two finest and oldest parcels, MUSE DE MIRAVAL is the estate's most exclusive rosé, available only in magnums, and, this year, also in a limited number of jeroboams. Get yours here.

One Eight Distilling (Tour/Tasting Alert)
Tours & Tastings are back at One Eight Distilling. There are two tours every Saturday where a production team member will lead you through their 15,000 square foot production facilities and conclude the experience with a guided tasting of our spirits. They will break down the entire process, explore the traditional grains and flavor profiles of the Mid-Atlantic, and learn what it means to distill "Grain-to-Glass." 1135 Okie Street NE; oneeightdistilling.com

Opaline (Yappy Hour Alert)
Opaline's bartenders have created two canine cocktails with dog healthy ingredients. The "Bark-ari" – fresh, house-made strawberry juice, garnished with strawberries and cucumbers and the "Puppitini" – fresh, house-made cantaloupe juice with cantaloupe wheel garnish are available. People will enjoy specialty cocktails such as the French PoodleTini and the French Bulldog Daiquiri along with a full cocktail menu. 806 15th Street NW; 202.730.8800; opalinedc.com
Pizzeria Paradiso (Pride Alert 🏳️‍🌈)
Pizza Paradiso is celebrating Pride Month by a Pride drink menu. From now until June 12th, the restaurant will feature pours and canned beers from local, queer-owned breweries & distilleries. Paradiso's Dupont location will also feature a special Pride Weekend Flight over DC Pride weekend. 2003 P Street NW; 202.223.1245; eatyourpizza.com
Republic Restoratives (Pride Alert 🏳️‍🌈)
Republic Restoratives Distillery, a small batch, women-owned, LGBTQ-owned distillery and craft cocktail bar in the heart of Washington, DC, has brought back its immensely popular "Civic Pride" Vodka for Pride Month. Proceeds will benefit Whitman-Walker Health, DC's legendary community health organization specializing in healthcare for LGBTQ communities and those living with HIV/AIDS. Purchase yours here.
NEW: Slate Wine Bar
From Tuesday, June 28, through Friday, July 1, Slate Wine Bar is offering a special RAMMYS Beverage Week wine flight featuring four fantastic wines for just $35. Guests will have the option to 'upgrade their flight' by exchanging up to two of these wines for special bottle-only selections from the menu. The signature flight features Taittinger Brut, Verso Libre, GLF by Greg La Follette Pinot Noir, and Taylor Fladgate Fine Ruby Port. Upgrades include Domaine des Hâtes 1er Cru Fourchaume (+$8) and Ehlers Estate Cabernet Sauvignon (+$15). To accompany the wine flight, Slate offers an inventive menu of classic Spanish bites and snacks as well as a Chef's Menu from Chef Danny Lledó. 2404 Wisconsin Avenue NW; 202.913.4671; slatewinebar.com

NEW: Serenata
Serenata is offerings Serenata Summertime Sips!, a take-home cocktail kit for purchase from Monday, June 27, through Friday, July 1. Guests will have their choice of three kits to recreate Serenata's stellar cocktail program at home: the Best Ever Margarita 2.0, Mojito con Chinola, and Paloma. Each cocktail kit ($50) mixes up six drinks and comes with all ingredients needed to make the drink as well as a QR code to a how-to video for mixing up the cocktail from Managing Partner Andra "AJ" Johnson. 1280 4th Street NE; serenatadc.com

NEW: Sweetwater Tavern
From Monday, June 27, through Friday, July 1, Sweetwater Tavern is excited to feature its Round of Samplers, a mini pilsner of five beers currently on tap, at its Merrifield, Centreville, and Sterling locations. The Round of Samplers is the perfect way to sample five award-winning brews at once. Current tap lists can be found at sweetwatertavern.pub under the 'Brewery' section for each location. (sweetwatertavern.pub). 3066 Gate House Plaza; 703.645.8100; sweetwatertavern.pub

NEW: The Alias (Industry Alert)
The new social club on 14th is industry night! Starting at 9:00 p.m., all bottles are buy one, get one free. Alias will also feature new DJs every Wednesday, too. 1610 14th Street NW; aliasdc.com
NEW: The Majestic (Happy Hour Alert)
The Majestic, known as the King Street staple that's been around since 1932, recently introduced a new extended Happy Hour. Enjoy items like the fried chicken sandwich, summer tomato toast, wines, beers, and more. 911 King Street, Alexandria, VA; 703.837.9117; themajesticva.com

The Point
The Point is featuring a Riverkeeper Rum Punch this June, where $1 from every drink sold will go to raise funds for Anacostia River Keeper. 2100 2nd Street SW; 202.948.2522; thepointdc.com

Tico (Pride Alert 🏳️‍🌈)
To celebrate Pride Month 2022, Tico will be presenting several events and a special cocktail menu. The cocktail menu celebrates five icons who embodied the meaning and power of Pride through history. One of these cocktails, the Sylvia Rivera, will be sponsored by Tito's Vodka; Tito's will donate $1 for every Sylvia Rivera cocktail sold in June to The Capital Pride Alliance. See more about their Pride events here.