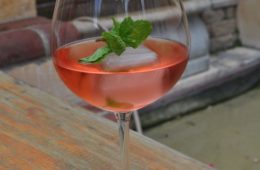 ICE COLD & DELICIOUS NEW COCKTAILS
Frozen and Delicious " Blue Duck Lounge and Blue Duck Tavern have unveiled new frozen "BLENT" cocktails. Four frozen beverages have been introduced on the menu including items such as the Frosé (frozen rosé wine with Cappelletti Aperitivo) the Orange Crush (Ketel One Oranje, orange liqueur, and fresh orange juice) the Watermelon Vesper (vodka, watermelon, jalapeño and avocado and the Prickly Piña with rum, prickly pear, and pineapple). So sit back relax and get frost with one of these new cocktails at the Blue Duck.
Take Me Out To The Ball Game " District Distilling has unveiled it's Take Me Out To The Ballgame menu featuring food and drink specials that can be enjoyed while watching America's favorite pastime. You can select from four handcrafted cocktails created by Consulting Mixologist Amie Ward in collaboration with Head Distiller Matt Strickland, featuring District Distilling's collection of house-made spirits. You can choose from cocktails such as All-Star with Buzzard Point Rum (Giffard Crème de Pamplemousse rosé, lime juice, Ting grapefruit soda), the Nats So Old Fashioned with Checkerbark Barrel Aged Gin, (demerara syrup and black walnut bitters, garnished with a luxardo cherry), the Wild 'n Stormy with Wild June Western Style Gin (lime juice and Fever Tree ginger beer), and the Nat's Cho Libre with Buzzard Point Rum (lime jam and Coca-Cola) Cocktails ($9) are available at the restaurant as well as at Nationals Park as part of the stadium's new District of Cocktails (in Sections 112 and 135) throughout the duration of baseball season. For more information click here.
Sex and the City " In honor of the 20th anniversary of the Sex & The City premiere Spirits manager, Nick Farrell from Irongate have put together a menu of four Cosmopolitans ($14 each) " one for Carrie, Miranda, Samantha, Charlotte " plus a scotch neat for Mr. Big fans. Should this fit with anything you're working on, the menu will run from June 6th through the 10th, and, in honor of Pride, one dollar from every Cosmo sold will be donated to our friends at the Human Rights Campaign. The Post-It " Carrie (Civic Vodka, Orange liqueur, House cranberry juice, Lime, Cardboard Baby) Charlotte " (Hibiscus Infused Gin, Orange blossom infused orange liqueur, lime, champagne), Meatpacking District " Samantha (Chacho Jalapeno Aguardiente, Solerno Blood Orange, lime, spiced cranberry foam), Lazy Ovary "Miranda (Cranberry limeade) and for the Mr. Big fan " John James Preston, Scotch. Neat. Get your Sex and the City fix at Irongate until June 10.
Whiskey Time " Jack Rose Dining Saloon's Saloon Bar and Rooftop Terrace have launched new seasonal sips featuring everything from tropical, warm-weather flavors of coconut, watermelon, guava, cantaloupe, and rhubarb, to bright vegetal notes of celery, fennel, red sorrel, and peppadews. You will even find unique house ingredients like cashew orgeat, coconut beer syrup, turmeric vermouth, and butterfly pea flower tonic. Naturally, as the home to the country's largest whiskey selection, WHISKEY-based cocktails make up one-third of their new menu. You can enjoy cocktails such as Cashews Everything Around Me (Bulleit Bourbon, Pierre Ferrand Dry Curacao, Cashew Orgeat, Lime, Grapefruit), Island Turkey (Wild Turkey 101 Rye, Averna Amaro, Maui Coconut Porter Syrup, Amere Sauvage), Fashionably Late (George Dickel Rye, Red Berry Campari, Cocchi Americano Rossa), Watermelon of Life (Watermelon Infused Jameson Black Barrel, H&H Rainwater Madeira, Cocchi Americano, Orange Bitters), Dew the Peppa (Altos Blanco Tequila, Peppadew Syrup, Grapefruit, Lime, Grapefruit La Croix). 2007 18th Street, NW; 202.588.7358 (www.jackrosediningsaloon.com)
Rosé Days " Vinoteca, the wine bar has reopened its rosé garden for the summer season called "Rosé Days" they will offer 20+ different rosé wines, rosé cans, and magnums, rosé spritzes, rosé sangria, rosé cider, rosé cocktails, and rosé flights. Vinoteca's charming, European-inspired outdoor Plaza bar will also be outfitted with a large flower wall, climbing roses, fresh blooms, and lush greenery. Sommelier Kate Chrisman has always been a lover of rosé she has created a "Rosé Days" menu that is available throughout the entire restaurant and bar. You can enjoy items such as Rosé magnums, flights, cider, sangria, and cocktails. For more information click here.