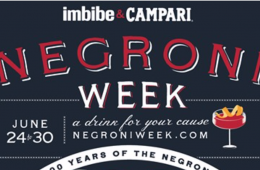 NEGRONI WEEK
Negroni Week is presented by Imbibe Magazine and Campari. Imbibe launched Negroni Week in 2013 as an effort to raise money for charities around the world. Negroni Week runs from June 24 to June 30.
Brabo Brasserie: Fountains of Negroni for No Kid Hungry: Brabo Brasserie, is ready for Negroni Weed with proceeds from their $14 fountain Negroni to benefit No Kid Hungry. You can enjoy the Negroni fountain's with hand-chipped ice rock and decorated with an orange twist.
Columbia Room: Kingston Negroni for Share Our Strength: Columbia Room is serving a special menu offering different variations of a Negroni. A percentage of all proceeds will be donated to Share Our Strength.
Nicoletta Italian Kitchen: Fluffy Orange Juice Topped Negroni for City Harvest: Nicoletta Italian Kitchen has Whipped, "fluffy orange juice" tops a fresh take on the Negroni named Garibaldi "al Dante", with proceeds supporting City Harvest during Negroni Week.
The Tasting Room Alexandria: Frozen Negroni ˜Otter Pop" Popsicles for No Kid Hungry: Tasting Room is offering Negroni Otter Pops during Negroni Week with a frozen combination of gin, vermouth, and Campari. Proceeds from the $3 otter pops will be donated to No Kid Hungry.