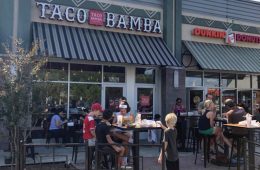 PATIO SEASON IN FALL?
Who knew Fall was patio season we did and we have the list of all the local area restaurants with Fall patio offerings!
Matchbox
Bring your furry bestie to any Matchbox patio for a taste of the new 3.6.k9 menu, featuring a selection of dishes designed with dogs in mind. Offerings Real pulled chicken, spinach, topped with scrambled egg ($6); mini burgers, steamed sweet potatoes ($6); Niko's Cookies oatmeal, peanut butter, cinnamon ($4); B.E.C. " bacon bits, hard-boiled egg, shredded cheese ($5); If Last Night was black beans, spinach, carrots, corn ($5
Stellina Pizzeria
Channel fall in Southern Italy with Neo-Neapolitan pizzas, Italian street food, and the requisite spritz on this Union Market District patio.