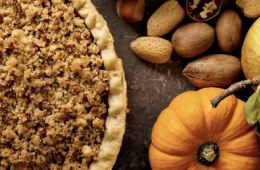 THANKSGIVING TO-GO
Whether you want to pick up a whole meal or just the fixings " we have the list of restaurants in the DMV that will make your Thanksgiving a success.
Bayou Bakery " They are satisfying pre- and post-gobbler cravings with a range of celebrity chef David Guas' sides, sweets, bread, biscuits, and rolls. Mix things up with Southern-style Turkey Day accompaniments and cocktail snacks, starting at $12, like Dirty Rice and Savory Bread Pudding. Calling all pie-lovers: at $20-$25 per pie, including old-school favorites like Apple Cinnamon Crunch and more unique options, like the addicting Bacon & Cayenne Pecan Pie. Customers that call to place their orders the Thursday before Thanksgiving, will receive a 15%-off discount, as well as a FREE pint of house-made Cranberry-Orange Preserves with purchases $50 or more. For ordering details please click here.
.
Best Buns Bakery & Cafe " This Thanksgiving you can enjoy handcrafted pies and forget wasting time with baking! Their newly-opened bakery in Tysons is offering satisfying, seasonal pies, like Pumpkin [$19,] Pumpkin Cheesecake [$40,] and Bourbon Pecan Pie [$32.] Patrons can also grab and go from the rotating selection of freshly baked pastries from Sugar Cookies to Pumpkin Bread with Chocolate Chunks and Dried Cherries in the form of a loaf. Final orders must be placed on November 26, 2019 " Best Buns Bakery & Cafe will be closed for Thanksgiving and will open on Black Friday [November 29] with regular hours.
.
Blue Duck Tavern " There is still time to place your order for an all-American Thanksgiving To-Go from Blue Duck Tavern! Enjoy a free-range turkey, two freshly baked bread, and four traditional sides, including honey-roasted carrots, braised greens, butter whipped potatoes, and cornbread oyster stuffing. Orders must be placed by November 21, with pick-up available on November 27 & 28. To place your order, click here.
.
Buttercream Bakeshop " Tiffany MacIsaac is conjuring up seasonal and nostalgic sweets from cakes to pies this Thanksgiving. Perfumed with the quintessential fall spices, the Chai Spiced Pumpkin Pie with Brown Sugar Whipped Cream and Candied Pepitas [$35.] Other flavors include the classic, rich Cinnamon-Dulce Apple Pie [$35,] or the chocolatey Nutella Fudge Icebox Pie featuring Frangelico Whipped Cream and toasted Hazelnuts. 72 hours notice is required for pickup. Buttercream Bakeshop closes at 4:00 PM the day before Thanksgiving [November 27, 2019.] For details on ordering please click here.
.
Brookland's Finest " Co-owner and executive chef Shannan Troncoso has put together a catering menu to ease the burden of hosting family and friends throughout this holiday season. Featuring beloved family dessert recipes and popular side dishes from the restaurant, Brookland's Finest holiday menu offers everything you need for a successful holiday dinner, minus the turkey! All Thanksgiving orders must be placed by Saturday, November 23rd. For all other holiday orders, a notice of three days is required when ordering and can be placed by phone at (202) 636-0050.
.
Buzz Bakeshop " Thanksgiving pre-ordering is now available! Browse a selection of pies, biscuits, and breakfast treats, then choose your desired date + location for pick up. Online pre-orders will be accepted through Sunday, November 24. Please note that both Buzz shops will be closed on Thanksgiving Day. Pickups can be made Monday 11/25, Tuesday 11/26, or Wednesday 11/27 at your desired location. Orders can be placed here.
.
Centrolina " From Thanksgiving morning pastries to poultry, to sides, Chef Amy and her team have brought ease to you and yours this holiday season. All orders must be received by Sunday, November 24 and picked up on Wednesday, November 27 from 5-9 pm. To place an order, click here.
.
Cork Wine Bar & Market " They are offering "everything but the turkey "Stock up on all your favorite sides and pies to compliment the bird you'll be putting your heart and soul into. Pick from options like cornbread stuffing, mac and cheese, and pumpkin pie.
.
The Daily Dish & The Dish & Dram " They are offering Thanksgiving to Go for eight which includes an all-natural, locally-raised turkey (12-14 lbs); turkey giblet gravy; sage and mushroom stuffing; garlic mashed potatoes or pumpkin mash; Lancaster County roasted fall vegetables; green beans; cranberry, orange & dried cherry relish and pumpkin or apple pie for only $235. If you prefer, you may substitute a brined, uncooked turkey. Reserve and pay for your dinner by Friday, November 24 at 5:00 pm. Pick-ups are between 2:00 pm and 9:00 pm Wednesday, November 27, and 9:00 am to 12 pm on Thanksgiving Day at The Daily Dish in Silver Spring, MD. Re-heating instructions will be included. To reserve click here.
.
Fairmont Georgetown " This Thanksgiving, they are offering turkey to-go and all the fixings; the menu features traditional favorites and house-baked goods. For more details, click here.
.
Fare Well " Vegan Thanksgiving options at Fare Well & Sticky Fingers include an indulgent Thanksgiving spread available for pick-up from Sticky Fingers or Fare Well.
.
Gravitas " Gravitas is offering an extensive line-up of Turkey Day favorites on their new Thanksgiving to-go menu. In addition to a selection of packages that feed 4-6 people, they are offering a la carte options including breakfast, appetizer platters, salads, soups, mains, bread, sauces, sides, and desserts. Orders must be placed by November 24 and can be picked-up November 27 (12-6 pm) or Thanksgiving Day (9 am-12 pm) Full selection menu and ordering options available here.
.
Iron Gate " Chef Tony Chittum has lovingly crafted a menu of sweets, dips, and focaccia to pre-order for your Thanksgiving spread. Such as buttermilk biscuits, pies, cookies and more. To place your order, just send an email to [email protected]
.
Officina's Mercato
" Chef Nicholas Stefanelli is preparing Thanksgiving Dinner Packages that feed 6-8 guests ($395) available for order through Officina's Mercato. The elegant and convenient feast includes a 12-14 lb. local organic turkey served with housemade cranberry sauce and gravy; 5 housemade sides (8 butter rolls, mashed potatoes, roasted Brussels Sprouts, Roasted Wild Mushrooms, and Chestnut Stuffing), and a choice of Pastry Chef Jemil's seasonal pies (Apple or Pumpkin). Optional add-ons like osetra caviar, white alba truffles, and foie gras terrine are available for an additional cost. Round out the spread with beverages like apple cider or a curated selection of sparkling, white, and red wines. Orders are available for pickup between 10 am and 2 pm on Monday, November 25 through Thursday, November 28, and can be made by filling out
this form.
.
Passionfish Restuarant " Enjoy a Turkey dinner for 8 including a roasted turkey, gravy, buttermilk biscuits with pepper jelly, and four side items, and a choice of pumpkin or pecan pie. All items ready to heat and eat. Click here for the menu.
.
RARE Steakhouse & Tavern Leave the baking to the best this Thanksgiving with homemade holiday pies from pastry chef Jackie Suter, ready for pick-up to enjoy at family gatherings. Pies are $25 each, serving 6-8, and are available for pick-up at RARE Steakhouse & Tavern from 11:30 am-3 pm on November 25-28. Orders must be placed 72 hours before the desired pick-up time. Click here to order.
.
Red Apron Butcher " Thanksgiving pre-ordering is now available! Browse a selection of farm-fresh turkeys, homemade sides, charcuterie and more, then choose your desired date + location for pick up. Orders can be placed here.