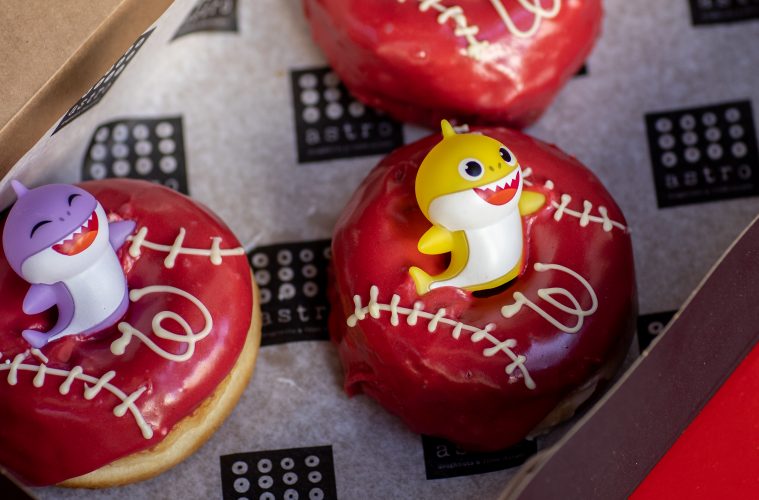 WORLD SERIES CHAMPIONSHIP PARADE & MORE
The Nationals Championship Parade is scheduled for this Saturday, November 2, at 2:00 PM. The parade will begin on Constitution Avenue NW at 15th Street NW, proceed east along Constitution Avenue NW, and end on Pennsylvania Avenue NW at 3rd Street NW with a team rally. For all the details click here.
.
World Series Doughnuts "
Astro Doughnuts & Fried Chicken
is bringing back the Nats World Series doughnut (vanilla doughnut with raspberry glaze and white chocolate design, resembling stitching on a baseball with a curly "W," and topped with a baby shark topper in the middle of the doughnut hole).
.
Grab & Go " Carmine's is just two blocks from the site of Saturday's Nats Victory Parade & Rally. They will have tables set up outside the restaurant, beginning at 10 am, where you may purchase water, sodas, coffee, and Italian sandwich box lunches. Coffee and sodas $2, Italian subs & chips $9 (with a beverage $10).They are also offering the Nationals Cooler (Bourbon, lemonade, and cranberry) at a Nats-special $7 with an all-day Happy Hour menu available at the bar.
.
All Day Happy Hour "
All
Nando's
DC locations will be offering happy-hour pricing all day tomorrow and Saturday to honor the Nats' World Series win. All beers will be $3 Sangria is $3/glass and $8.50/pitche and house red and white wines are $4/glass and $15/bottle. PERi-PERi Chicken Wings, Hummus with PERi-PERi Drizzle, and Nando's Chips (fries) are also all happy-hour-discounted all day.